Yan Fong
Aug 5, 1929 - Sep 5, 2015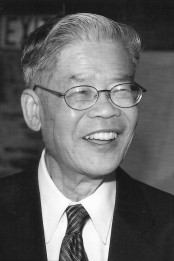 Obituary
Yan Fong passed away September 5, 2015 at the age of 86. Born August 5, 1929 in Canton, Kwangtung Province, China.
Yan graduated from Mapua Institute of Technology, Manila, Philippines with degrees in mechanical and electrical engineering. Upon moving to the United States, Yan began a career with Boeing in 1956 until his retirement in 2008. An accomplished and respected electrical engineer, his career with Boeing reflected his technical and professional abilities. Yan worked on projects that ranged from the development of the 747 to defense systems. A lifelong student, Yan earned a master's degree in engineering from Central Washington University at the age of 74, in 2004.
As notable as his professional career was, Yan will be remembered by his family, friends, and colleagues for his dedication, compassion, and kindness. His greatest legacy is his family, and the love and support he bestowed. A firm believer in the importance of education, hard work, and a respect and appreciation for the outdoors, Yan led by example.
Yan is survived by his wife of 56 years, Thelma V. Fong, his five children, Cecilia (Barry), Beatrice (John), Anthony, Albert, and Patricia (David) and his grandchildren Lianne, Isabelle, Andrew, Kai, Keats, Annika, Caitlin, Patrick, and Matthew. He is also survived by his brother, Eddie. He was preceded in death by his brothers Gene and For, his father Fong Cheuk Kwun and his mother Tse Koon Wah.
In lieu of flowers, memorials may be made to St. Stephen the Martyr Church (ststephenslife.com) or Washington's National Park Fund (wnpf.org).
"I can't think of anything more that could have been done at a time when I needed help and care."
Jean P. Seattle
"We received outstanding service, from front desk to funeral director to family service and beyond."
Deborah M. SeaTac
"The staff went out of their way to show us kindness and helped with several additional needs."
Norma N. Auburn
"The staff was prompt, courteous, helpful, and most of all, caring."
Leslie W. Tacoma
"They really care for people and go out of their way to make things easier."
Kathleen S. Federal Way
"The funeral home is a nice, warm and inviting place. Thank you for your kindness in our loss."
Deborah N. Burien
"We are so pleased with Bonney Watson. They were very professional in every way."
Anita H. Normandy Park