Tiana Hwei-Jiuan Lee
Feb 9, 1997 – Sep 21, 2018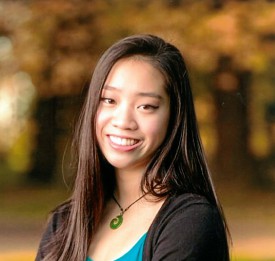 Obituary
Tiana passed away peacefully on Friday, September 21, 2018, although her life was cut short, she led a full and active life from the start. She was a lively, kind, respectful, loveable, generous girl, whom everyone looked up to. She fell in love with ice skating at the age of 7. As a graceful figure skater competitor in 2004 to 2016 she took the hearts of many coaches as well as the audiences in the Pacific NW Region winning Gold and Silver championships. Tiana's accomplishments also included Chinese Cultural Dance with Heng Da Dance Academy. She also starred in a leading role in a short film in Seattle Film Festival. She was a long-time active volunteer for the Seattle Police Explorer since attending West Seattle High School where she was promoted to Sergeant and Co-Captain all while graduating honors. Her latest event included the swearing in ceremony of Chief Carmen Best, working closely with assistant Chief Adrian Diaz who oversees the SPD Explorer program and the SPD MCPP. As a Senior at Seattle University with a major in Criminal Justice-Forensic Science Program with a minor in Chemistry, Tiana maintained honor student status and rose to the challenge and took on a graduate internship which exceeded the grad students on the research team.
As we all agreed, Tiana was a down to earth girl who did not like makeup and dragged going shopping, instead loved to be active and being challenged. She was at times fierce with determination but was beautiful and graceful on ice as well as on dance floor. She had that bubbly laugh and infectious smile that made people wanted to be around her.
Tiana was a senior undergraduate with a major in Criminal Justice-Forensic Science Program with a minor in Chemistry at the Seattle University. She sustained her honors status throughout her university years. After graduating with honors from West Seattle High School Tiana joined the Seattle Police Explorer. Within a short period of time she was promoted to sergeant and eventually to co-captain. Her latest SPD event included assisting with Seattle Police Chief Carmen Best's swearing in ceremony and worked closely with Assistant Chief Adrian Diaz. In addition to Tiana's extraordinary achievements she was an accomplished Chinese Cultural dancer with the Heng Da Dance Academy for 13 years and competitive figure skater for 10 years representing the Highland Ice Skating Arena with the help of Coach Darin Hosier and Choreographer Coach Corrie Martin. She was also the 2015 Pacific NW Senior Ladies Champion, 2014 Pacific NW Junior Ladies Champion, 2013 Pacific NW Novice Ladies Silver Medalist, and the 2010 Pacific NW Juvenile Champion. She also starred in a film with the Seattle Film Festival
Guestbook
This obituary is provided by Bonney-Watson, providing caring and compassionate funeral, cremation and cemetery services since 1868. We have a professional staff, four funeral homes, two cremation facilities and one of the largest cemeteries south of Seattle, as well as a comprehensive grief support program.
_