Kee Wah Chung
Jan 11, 1971 – Jan 14, 2019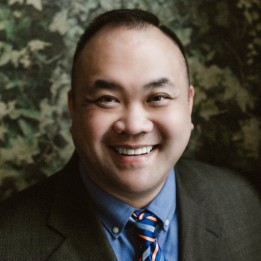 Obituary
Kee Wah was born in Hong Kong on January 11, 1971 and soon thereafter his family moved to Washington state and eventually settled in Federal Way. He graduated from Thomas Jefferson High School, and continued on to obtain an MBA, BS and BA in Business Management, Sociology and Building Construction from the University of Washington.
Kee Wah was married to Shauna on August 9, 2009 after they met and fell in love while both worked at Microsoft.
Kee Wah was known for his humor, always a quick wit and he never shied from doing whatever it took to get a laugh. He put people at ease with his humor and made sure everyone was smiling and laughing. His 15-minutes of fame came first when he won Wheel of Fortune, followed by a stellar performance at the talent show on one of the many cruises he took with Shauna and his family. As a generous man with a huge heart, Kee Wah was always first to extend a helping hand offering whatever was needed, which is one reason why he was surrounded by lifelong, forever friends.
Kee Wah is survived by Shauna, his three young children, Katelynn, Keelan and Riker, his sisters Amy and Judy, and extended loving family and a very extensive group of friends.
Kee Wah is preceded in death by his mother, Kim T. Chung, who passed just 11 days before Kee Wah, his father Chang Chung, his brother Jeffrey Chung.
The family wishes to thank the staff and parents of Camelot Elementary School for their caring generosity, his co-workers, past and current, the folks at Bonney-Watson for helping to make the process smoother for Shauna, and for all his wonderful friends who showed up at Harbor View to provide support and love for Shauna in her time of need, to help with the children through this emotional and hectic time, and who held her hand throughout the sudden and devastating loss of the love of her life and father of her precious children.
Guestbook
This obituary is provided by Bonney-Watson, providing caring and compassionate funeral, cremation and cemetery services since 1868. We have a professional staff, four funeral homes, two cremation facilities and one of the largest cemeteries south of Seattle, as well as a comprehensive grief support program.
_