Randy Steven Schlecht
Mar 22, 1951 – Jan 8, 2019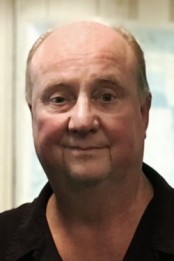 Obituary
Randy was born March 22, 1951 in Mobridge, South Dakota to Alvin and Leona (Schilling) Schlecht. At 6 months old he was on the move to Seattle, Washington with his family. He lived between Georgetown and Des Moines his entire life except for college. Randy enjoyed Little League baseball and lettered in basketball at Pacific JH and Mt Rainier HS. He graduated in 1969 from Mt Rainier High School in Des Moines then from Western Washington State College in Bellingham and in 1977 earning a teaching degree in math for elementary and secondary students. He married Christine Morris in 1974 and Ryan was born in 1976. Teaching middle school teens was his passion. He substitute taught, but with no permanent position available in the south end of Seattle he started a 30 year Industrial Engineer career at the Boeing Defense program. He retired at the age of 55 in 2006 and spent his free time in Bible study classes, crossword puzzles, fantasy football, NCAA Bracketology, horse racing, casino and cards with family and friends.
Randy is survived by his son Ryan (Cindi) Schlecht of Austin, Tx., 2 grandchildren Blake and Hannah and his siblings Richard (Sharon) Schlecht of Maple Valley, Peggy (Kenn) Beck of Federal Way and Rodney (Dinah) Schlecht of Denver, Co.
Randy was preceded in death by his parents Alvin & Leona Schlecht.
There will be "A Celebration of Life" for Randy February 9, 2019 at Noon. Join us for lunch and sharing memories at Water Gardens Clubhouse 21806 SE 276th St Maple Valley Wa. 98038 Parking is available outside the south gate and inside along any side walk side, do not block drive ways.
Guestbook
This obituary is provided by Bonney-Watson, providing caring and compassionate funeral, cremation and cemetery services since 1868. We have a professional staff, four funeral homes, two cremation facilities and one of the largest cemeteries south of Seattle, as well as a comprehensive grief support program.
_