Alec W. Brindle, SR
Oct 18, 1938 - May 12, 2019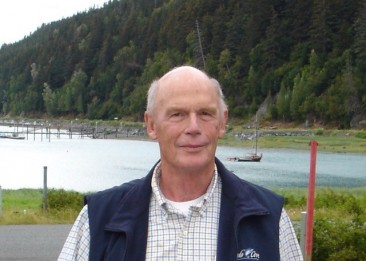 Obituary
ALEC W BRINDLE
Alec W. Brindle was born in Seattle on Oct. 18, 1938. He went to his reward on May 12, 2019, when recovery from major spine surgery eluded him.
Alec attended St. Joseph elementary school, Seattle Preparatory School, Santa Clara University, and the University of Washington School of Law and he held an honorary doctorate from the University of Alaska, SE. Asked about his career, Alec would describe himself as "a recovering lawyer and a retired Alaska fish packer." He practiced law in Seattle for several years; but on the death of his father, he assumed leadership of the family business, Wards Cove Packing Co., and stayed at the helm for over 20 years, becoming a leader in the industry.
Alec was preceded in death by his first wife, Cornelia "Pinky" Brindle. He is survived by his wife, Maddy; his son, Alec, Jr., Alec's wife, Ana Sofia, and their daughter, Amélia Alexander (aka "Our Girl"); Maddy's children, Sheila Beer and Patrick Connolly (Douglas Berman) and grandchildren, JP and Maddy Beer; and siblings Sara Blair (Rob) and Barbara Lally (John).
A Funeral Mass will be held at St. Joseph Catholic Church in Seattle on Wednesday, May 22nd, at 11:00 am. Alec's ashes will be scattered in the Tongass Narrows in southeastern Alaska, the home of Wards Cove and a place that remained close to his heart.
In lieu of flowers, please contribute to a worthy cause of your choosing.
"I can't think of anything more that could have been done at a time when I needed help and care."
Jean P. Seattle
"We received outstanding service, from front desk to funeral director to family service and beyond."
Deborah M. SeaTac
"The staff went out of their way to show us kindness and helped with several additional needs."
Norma N. Auburn
"The staff was prompt, courteous, helpful, and most of all, caring."
Leslie W. Tacoma
"They really care for people and go out of their way to make things easier."
Kathleen S. Federal Way
"The funeral home is a nice, warm and inviting place. Thank you for your kindness in our loss."
Deborah N. Burien
"We are so pleased with Bonney Watson. They were very professional in every way."
Anita H. Normandy Park