Anna Wong
Jul 7, 1947 - Sep 1, 2019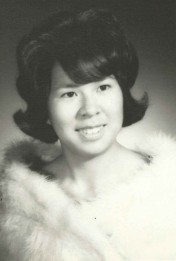 Obituary
Please join us to celebrate the life of Anna Wong, our beloved mother, grandmother, sister and friend. Anna was born on July 30, 1946 in Ilwaco, Washington to Mary Lou Simmons and Danny Lew.
She married her husband, Joseph Wong, on December 18, 1965 and had three children – Christine, Tara and Joepaul. She worked to help support the family as her husband finished college and then became a fulltime homemaker to care for her children. She returned to the workforce when she was widowed at the young age of 38 and successfully finished raising her children as a single parent.
Anna dedicated herself to her family and helped care for the grandchildren so her own children could build their careers. She worked hard to stay healthy by exercising 2-3 times per week and invited anyone and everyone to exercise with her. She loved talking with her sister, Jennie, watching the grandkids play sports, gardening, craftwork, and taking the grandkids on long walks to play at the park.
Anna passed away peacefully on September 1, 2019 after a fall that resulted in a traumatic brain injury. She was surrounded by her family. She is preceded in death by her husband – Joe, parents – Danny and Mary Lou, and three brothers – Mike, Johnny and Larry. Her memory will live on with her three children – Christine (Fred), Tara (Theo), Joepaul (Leah), six grandchildren – Brianne, Riley, Evan, Caden, Cole, Benjamin, two brothers – Art, Ronnie, eight sisters – Jennie, Maria, Marcy, Vicky, Evelyn, Rosie, Linda, Susie and many nieces, nephews, grandnieces and grandnephews.
Please join us as we reunite to celebrate Anna's life. The viewing will be Sunday, September 8th, 4pm-7pm at Bonney Watson, 16445 International Blvd, Seatac, WA. Funeral Service will be Monday, September 9th, 10am at Bonney Watson, Seatac with the burial following at 12:30pm, Lake View Cemetery in Seattle.
"I can't think of anything more that could have been done at a time when I needed help and care."
Jean P. Seattle
"We received outstanding service, from front desk to funeral director to family service and beyond."
Deborah M. SeaTac
"The staff went out of their way to show us kindness and helped with several additional needs."
Norma N. Auburn
"The staff was prompt, courteous, helpful, and most of all, caring."
Leslie W. Tacoma
"They really care for people and go out of their way to make things easier."
Kathleen S. Federal Way
"The funeral home is a nice, warm and inviting place. Thank you for your kindness in our loss."
Deborah N. Burien
"We are so pleased with Bonney Watson. They were very professional in every way."
Anita H. Normandy Park