Burrita Gongwer Perry
Mar 21, 1930 - Sep 26, 2019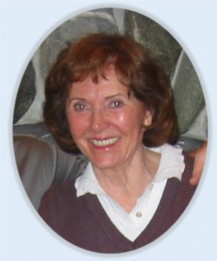 Obituary
IN MEMORIUM BURRITA PERRY
March 21, 1930 to September 26, 2019
On Thursday, September 26, 2019, Burrita Gongwer Perry, wife, mother, grandmother and great-grandmother, passed away peacefully at home from complications of Alzheimer's, surrounded by her devoted husband, Dr. Robert L. Perry, two of her daughters and her son-in-law.
Born on March 21, 1930 in Port Angeles, Washington, Burrita attended Eastern Washington College of Education as well as Oregon Health & Science University where she graduated with an X-Ray Technician certificate. She worked in various hospitals in the Spokane area and also in her husband's medical practice in Burien, Washington. Burrita was a lifelong learner and in her 50's, she returned to school at Highline Community College and then the University of Washington, graduating with a Master's degree in Social Work and Counseling. Upon graduation, Burrita set up a private practice out of her home, counseling individuals with a specialty in addiction and alcoholism.
Burrita was a very positive person with an incredible zest for life. She was active in church for many years and secure in her belief in Christ her Lord. Burrita had a servant's heart and was quick to meet the needs of both her family and those in her community. In addition to her great love for her family, Burrita enjoyed gardening, traveling, cooking and many other activities. She was a fully certified ski instructor and loved spending time in the mountains whether skiing or hiking. She was an avid golfer and a member of the Rainier Golf and Country Club for over 20 years. She trained as a Master Gardener and volunteered her time helping others with their gardens. She also served as a child advocate in the court system and as a hospice volunteer. Burrita and Bob moved to their home on Lake Burien in 1960, where they raised their five children and created a lifetime of memories.
Burrita will be lovingly remembered by her husband of 67 years, Dr. Robert L Perry and her five children and their spouses, Laura Perry and Frank Cervenka (Seattle), Jody Menenberg (Bellevue), Robin Hale (Burien), Scott and Kathy Perry (Redmond) and Susan Paulson (S. Lake Tahoe) as well as her 16 grandchildren (Christine, Brian, Benjamin, David, Alex, Sydney, Madison, Joshua, Katie, Gabriel, Max, Raquelle, Forrest, Connor, Emily and Daniel) and 15 great-grandchildren (Olivia, Noah, Nathaniel, Nehemiah, Noah, Eliza, Dominic, Elias, Nicholas, Emmett, Luna, Nora Jean, Elias, Luca and Jacob) . She was predeceased by her father Burr Gongwer, her mother Agnes McKenzie and two sisters.
A Memorial Service will be held on Saturday, October 19, 2019, at 11am at Highlands Community Church located at 3031 NE 10th Street, Renton, Washington. In lieu of flowers, memorial donations may be made in Burrita's name to the Alzheimer's Association-Washington State Chapter, 19031 33rd Avenue, #301 – Lynnwood WA 98036.
"I can't think of anything more that could have been done at a time when I needed help and care."
Jean P. Seattle
"We received outstanding service, from front desk to funeral director to family service and beyond."
Deborah M. SeaTac
"The staff went out of their way to show us kindness and helped with several additional needs."
Norma N. Auburn
"The staff was prompt, courteous, helpful, and most of all, caring."
Leslie W. Tacoma
"They really care for people and go out of their way to make things easier."
Kathleen S. Federal Way
"The funeral home is a nice, warm and inviting place. Thank you for your kindness in our loss."
Deborah N. Burien
"We are so pleased with Bonney Watson. They were very professional in every way."
Anita H. Normandy Park