Eric Clayton Boutwell
Feb 19, 1974 - Sep 11, 2019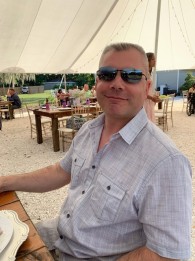 Obituary
Eric C. Boutwell, born on February 19, 1974, died September 11, 2019. He was my best friend, my confidant, my safe harbor. His absence in my life and in the life of all those who loved him will leave a hole that will never be filled.
He loved being a firefighter; he was so very proud to wear the North Highline patch. He took his role as Captain very seriously – ever trying to improve himself and set a good example for his crew and his children. This pride always inspired me to be my best – and never give up – and I know this pride will live on in his girls, Haley and Isabella.
He was such a beautiful spirit. His ability to love and comfort others tempered his leanings toward rage; his laughter and witty humor softened his intolerance toward "stupid people." He was not daunted by any task and could figure out how to do anything. I loved that about him … His only fear was the darkness he carried with him.
He is gone – but a piece of him will live on in all of us; in our hearts, in our memories of him, when we laugh or when we cry. He will miss us – and we will miss him forever.
I will never understand why in that one single moment death was more alluring than life – but I hope there is peace where you are. My heart is broken – but in all the pieces there is love – I will always love you – even as death parts us – forever.
"I can't think of anything more that could have been done at a time when I needed help and care."
Jean P. Seattle
"We received outstanding service, from front desk to funeral director to family service and beyond."
Deborah M. SeaTac
"The staff went out of their way to show us kindness and helped with several additional needs."
Norma N. Auburn
"The staff was prompt, courteous, helpful, and most of all, caring."
Leslie W. Tacoma
"They really care for people and go out of their way to make things easier."
Kathleen S. Federal Way
"The funeral home is a nice, warm and inviting place. Thank you for your kindness in our loss."
Deborah N. Burien
"We are so pleased with Bonney Watson. They were very professional in every way."
Anita H. Normandy Park