Felisa Cabana Lazo
Dec 30, 1926 - Sep 27, 2019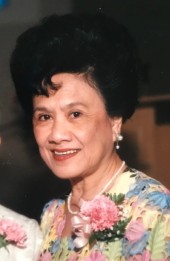 Obituary
Felisa Cabana Lazo, age 92, passed away peacefully on Sept 27, 2019 at her home in Seattle. Born Dec 30, 1926 in Tayug, Philippines.
In 1948, Larry Lazo went to the Philippines to marry her and bring her to America to the Port of San Francisco. Where their eldest son, Francis was born in 1949 in San Jose, CA.
In 1950, the family moved to Seattle and then to Auburn, WA. In 1954 their youngest son Larry James was born.
They built their home and settled in Seattle in 1957 until present.
She attended Washington Beauty College in 1959. She was a beautician at Gene's Beauty Salon on Beacon Hill until the mid-80's and opened her own shop, Cinderella's until she retired in 1995.
Felisa was preceded in death by her husband Larry Lazo (Oct 11, 1985), brothers Luis Cabana (Oct 21, 2009) and Mat Cabana (Nov 8, 2009).
Felisa was a Pioneering and Lifetime member of the East-West Ladies Chapter #3.
Felisa loved her family, garden and home. Mahjong provided fellowship for her.
Felisa returned to the Philippines twice, once with each son so they could experience the family history and culture.
She is survived by her two sons. Frank (wife Faith), grandson Franco (partner Molly) great-grandson Noah. And son Jim (wife Dana), grand-daughter Kimberly (husband Aaron) and grandson Mitchell. Along with cousins and many nieces & nephews and extended family to whom she loved and touched deeply.
"I can't think of anything more that could have been done at a time when I needed help and care."
Jean P. Seattle
"We received outstanding service, from front desk to funeral director to family service and beyond."
Deborah M. SeaTac
"The staff went out of their way to show us kindness and helped with several additional needs."
Norma N. Auburn
"The staff was prompt, courteous, helpful, and most of all, caring."
Leslie W. Tacoma
"They really care for people and go out of their way to make things easier."
Kathleen S. Federal Way
"The funeral home is a nice, warm and inviting place. Thank you for your kindness in our loss."
Deborah N. Burien
"We are so pleased with Bonney Watson. They were very professional in every way."
Anita H. Normandy Park