James Lamar Beason
Feb 14, 1932 - Jul 11, 2019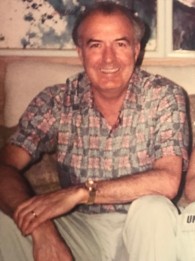 Obituary
James Lamar Beason, 87 of Seattle, Washington passed away at his residence on July 11, 2019. He was born on February 14th, 1932 in Steele, Alabama, the son of Roy and Doris Beason. Jim grew up on Chandler Mountain in Steele and graduated from Ashville High School in 1949. He entered the Air Force in 1951 and served in the Korean War. Once back from the war he attended college at Gonzaga University in Spokane and graduated in 1959 with an Engineering degree.
While in Spokane, he met and married the love of his life, Kathryn Lois Carr. Shortly after graduating from college he was hired by Boeing Aerospace as an Engineer. Jim and Lois, together with their newborn son, Gregg, they moved to Seattle. In 1962 they added an additional son, James M. to their family.
Jim's career at Boeing spanned over 35 years where he worked primarily in the Defense Department designing missiles, including the AGM-86C Cruise Missile.
Jim was a humble and kind man who always put others before himself. He enjoyed watching and coaching his kids in sports, traveling and spending time with family and friends. He served on boards and was always involved in the communities he lived in. His strongest bond of all was with his wife Lois throughout their almost 65 years of marriage.
Jim is preceded in death by his parents, Roy and Doris, his two brothers, Clifford & Jack and his sister, Grace. He is survived by his wife Kathryn Lois Beason, Sons, Gregg & James M Beason, Daughters in Law, Annie Beason (Gregg) & Debby Beason (James M). Three grandchildren, Brett, Bryce & Layne Beason (Gregg).
A celebration of Jim's life will take place at Bonney Watson's Washington Memorial Park and Mortuary. Jim will be laid to rest in the Veterans Garden with Military Honors.
With respect for Jim's service to the military and passion for sports, in lieu of flowers the family has asked that donations be made in his honor to Vet Tix (www.vettix.org) – a wonderful organization that provides tickets to sporting events for veterans. Or please make a contribution to any organization that is important to you.
"I can't think of anything more that could have been done at a time when I needed help and care."
Jean P. Seattle
"We received outstanding service, from front desk to funeral director to family service and beyond."
Deborah M. SeaTac
"The staff went out of their way to show us kindness and helped with several additional needs."
Norma N. Auburn
"The staff was prompt, courteous, helpful, and most of all, caring."
Leslie W. Tacoma
"They really care for people and go out of their way to make things easier."
Kathleen S. Federal Way
"The funeral home is a nice, warm and inviting place. Thank you for your kindness in our loss."
Deborah N. Burien
"We are so pleased with Bonney Watson. They were very professional in every way."
Anita H. Normandy Park