Larry Kier
Apr 19, 1982 - Aug 23, 2019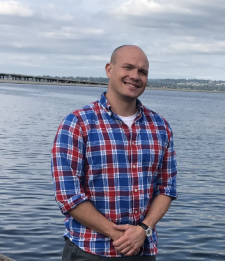 Obituary
Larry Dean Kier, son of Marsha Reiter and Jeffry Kier, born on April 19,1982 in Ventura, CA. Larry was tragically taken from his family and friends on Friday, August 23, 2019 when he was struck and killed by a drunk driver in Kent, WA.
Larry is predeceased by his Grandfather Larry Kier and is survived by his Father, Mother and step-father Robert Reiter, beloved son Noah Kier, ex-wife Katrina, niece Aniyah Kier, devoted sister Sarah Kier, and Grandmother Barbra Kier. Larry is also survived by many aunts, uncles, cousins, and numerous friends from all walks of life.
Larry grew up and spent most of his life in Federal Way, WA, and graduated from Decatur High School in 2001. Larry survived by his childhood friend Terrence Rivers, and other friends that he made throughout his life that held a special place. Larry was known for his love for sports, music, and being by the water (Dumas Bay). Anyone who loved Larry frequently heard about the Los Angeles Lakers (Kobe Bryant), the Oakland Raiders, the Los Angeles Angels (Mike Trout), and Nirvana (Kurt Cobain).
Larry was actively involved in Alcoholics Anonymous and survived by his sponsor Randy O'Grady. Larry strongly believed in Christianity and was involved with and an advocate for the programs and services with the Salvation Army. Larry met many people over the years through these programs that truly meant a lot to him, and helped shape his life.
Memorial services will be held on Saturday, September 14, 2019 from 11:30am-2:30pm at the Bonney-Watson Memorial Hospitality Room in SeaTac, Washington. In addition, the family will hold a private ceremony to scatter his ashes at his favorite scenic spot (Dumas Bay.) The invitation to Larry's services are open to anyone who knew and loved him. If you wish to make a donation, please go to the Larry Kier Memorial Fund on GoFundMe at this link:
https://www.gofundme.com/f/larry-kier-memorial-fund?sharetype=teams&member=2791548&utm_medium=sms&utm_source=customer&utm_campaign=p_na+share-sheet&rcid=749363c4035c490c9030d14dc0781a31
"I can't think of anything more that could have been done at a time when I needed help and care."
Jean P. Seattle
"We received outstanding service, from front desk to funeral director to family service and beyond."
Deborah M. SeaTac
"The staff went out of their way to show us kindness and helped with several additional needs."
Norma N. Auburn
"The staff was prompt, courteous, helpful, and most of all, caring."
Leslie W. Tacoma
"They really care for people and go out of their way to make things easier."
Kathleen S. Federal Way
"The funeral home is a nice, warm and inviting place. Thank you for your kindness in our loss."
Deborah N. Burien
"We are so pleased with Bonney Watson. They were very professional in every way."
Anita H. Normandy Park