Thomas Anthony Florez, II
Sep 16, 1989 - Aug 1, 2019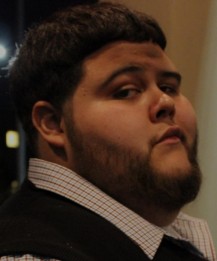 Obituary
Thomas Anthony Florez II,
Age 29, passed away peacefully on Thursday, August 1st, 2019, in his home surrounded by family. Thomas, aka Tone, was born in Seattle, WA on September 16th, 1989 to parents Patricia (Florez) Battles and Hector Medina Sr. Although he spent the last decade living in the Federal Way area, Thomas spent his childhood living in Eastern Washington.
Thomas graduated in 2008 from A.C. Davis High School in Yakima, WA. This is where he met the love of his life – Esmeralda (Cruz) Florez. The two tied the knot and were married January 21st, 2017.
Thomas had such an amazing personality and so many different interests. He was known for his quick wit and ability to make us laugh but he will always be remembered for his infectious smile and laugh. Thomas was a prankster and a jokester, yet he was the most caring and kind-hearted individual. He was also a dedicated employee at Valley Medical Center in the Radiology and Diagnostic Imaging Departments for 10 years.
He had a passion for the outdoors and was always up for adventure. Thomas loved to hike, camp or drive anywhere he could enjoy the beautiful scenery, however, he did enjoy spending time at home, doing the MANY things he was skilled at. He was a great cook, skilled gamer, an artist, and so much more. He was an avid Seahawks fan and a strong movie fanatic. Music was also a huge part of Thomas' life. He loved each and every genre from every generation.
Ultimately, no matter what it was, he found the most joy when he did the things he loved, with the people he loved. Thomas was one of a kind and he will never be forgotten.
Thomas is survived by his Mother Patricia Battles, his Father Hector Medina Sr, his Wife Esmeralda, his Dog Olive, His Brothers Hector and Joel, His Sister Irene and his Niece Zaina.
A graveside service for Thomas will be held on August 28th at 11AM at Mountain View Cemetery in Auburn, WA. A reception will be held after the service at the Comfort Inn in Federal Way, WA.
"I can't think of anything more that could have been done at a time when I needed help and care."
Jean P. Seattle
"We received outstanding service, from front desk to funeral director to family service and beyond."
Deborah M. SeaTac
"The staff went out of their way to show us kindness and helped with several additional needs."
Norma N. Auburn
"The staff was prompt, courteous, helpful, and most of all, caring."
Leslie W. Tacoma
"They really care for people and go out of their way to make things easier."
Kathleen S. Federal Way
"The funeral home is a nice, warm and inviting place. Thank you for your kindness in our loss."
Deborah N. Burien
"We are so pleased with Bonney Watson. They were very professional in every way."
Anita H. Normandy Park