Christopher (Chris) Moore
February 25, 1953 - February 28, 2023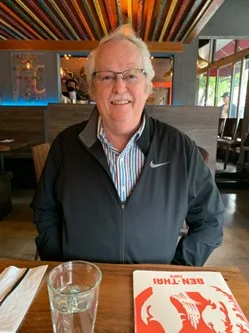 Obituary
Beloved husband, father, and grandfather Chris left us unexpectedly on Tuesday, February 28, 2023, when he passed away peacefully at Valley Medical Center in Renton, Washington. He was born in Wichita, Kansas on February 25, 1953 to Louis and Clarice Moore (Neff). Growing up, his family lived in Hutchinson and Haysville, Kansas; Cheyenne, Wyoming; and Granger, Utah; before finally settling in the Seattle area near Kent.
Chris graduated from Kentridge High School in 1971, and was always proud that his children attended Kentridge as well. He attended Itt Peterson Business School for two years, and went to work at the Hyatt House near SeaTac Airport. At the Hyatt, he met his wife Judith (Judy) Prandi, whom he married in 1976. Chris then went to work for Farmers Insurance alongside his father-in-law Carlo Prandi, building his own successful agency in Tukwila and later Kent. He served his customers at Farmers for thirty plus years, retiring in 2017.
His final years were filled with love, adventure, and learning. He especially enjoyed spending time with his grandchildren, and was blessed to be able to care for them several days a week during most of his retirement. He traveled to Spain, Mexico, and Hawaii, and made frequent trips to California to visit his son. A prolific reader in his later years, you would always find him with his book and coffee (or occasionally watching golf) in the mornings. Three days before his passing, he celebrated his seventieth birthday surrounded by family on the Lake Union waterfront.
Chris was known for his devotion to his family, his great sense of humor, and especially for his kindness. A gentle soul with a noble heart, he will be greatly missed. He was preceded in death by his parents and sister Connie (Rick) Shepherd. He is survived by his loving wife of forty-six years Judy, sisters Donna (Chuck) Fraser and Jane Frasier, brother Craig (Lylas) Moore, son Kevin Moore, daughter Leslie (Nathan) Woods, grandchildren Curran Woods and Elliot Woods, and extended family.
In celebration of Chris' life, memorial services will be held on Saturday, March 18, 2023 at 11:00 am at St. Francis of Assisi Parish in Burien.
In lieu of flowers, memorial donations may be made to Seattle Children's Hospital or the charity of your choice.