Gwendolyn Patricia Thompson
October 2, 1941 - June 30, 2022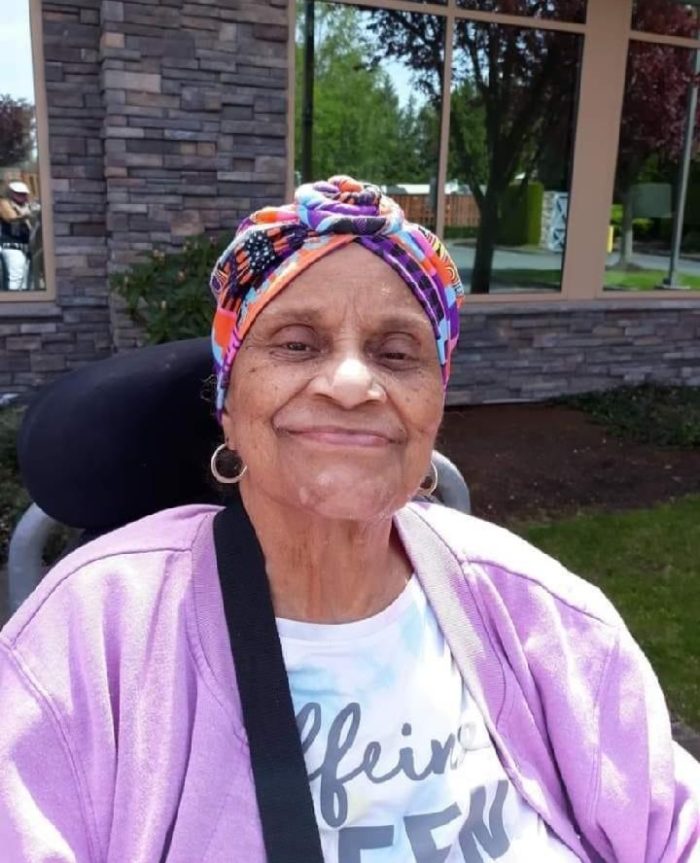 Obituary
Gwendolyn Patricia "Pat" Thompson
SUNRISE October 2, 1941 – SUNSET June 30, 2022
Gwendolyn P. Thompson was born October 2, 1941, in Lawrence, Kansas to Lawrence T. Turner and Evelyn J. Harding. Gwen was raised by her father Lawrence Turner and stepmother Cynthia Turner alongside her older brother Larry Turner.
Gwen established a career in modeling, which took her to Paris, before moving to Seattle in 1960 where she prepared to build a beautiful life for herself, her children, and many generations to come. She took a break from Washington and moved to California where she resided in South L.A. off Normandy and Adams as well as the Baldwin Hills area for some time before returning to Seattle permanently.
Gwen enjoyed spending time with her family and friends. She loved shopping outings, eating out, music, dancing,  traveling, and sightseeing. One of her favorite pastimes was betting on the race horses at Long Acres and Emerald Downs. She faithfully attended all Kentucky Derby and Churchill Downs races every chance she got. "If you know you know." Her second favorite pastime was wrestling.  And if you know Momma then you know how much she loved wrestling; Big Time Wrestling, WWF and WWE. You could hear Momma yelling from down the block at the wrestlers that she wanted to win, lol. She had a taste for the finer things in life and an impeccable eye for fashion. She cherished spending holidays with her loved ones, where she truly was the life of the party, the best storyteller and jokester.
Her friends and family will forever carry many fond memories of laughing, singing, and dancing with her to her favorite music. She absolutely adored all her grandchildren and great grandchildren.
Gwen passed away peacefully on June 30, 2022, at her home in Sea-Tac, WA.  She was 80 years young. She is survived by 4 of her 5 children; Cynthia "Channel" Thompson, Shannon Forks, Jodie Taylor, Timothy Pleasant, and a bonus child Lynn Edwards plus numerous grandchildren and great grandchildren. She was preceded in death by her oldest son Paul Jones, Jr.  
Miss Me But Let Me Go
When I come to the end of the road
And the sun has set for me
I want no rites in a gloom-filled room
Why cry for a soul set free?
Miss me a little, but not for long
And not with your head bowed low
Remember the love that once we shared
Miss me, but let me go.
For this is a journey we all must take
And each must go alone.
It's part of the master plan
A step on the road to home.
When you are lonely and sick at heart
Go to the friends we know.
Laugh at the things we used to do
Miss me, but let me go.
And as Momma would say
"Ok"
To the grandchildren and great grandchildren, your grandmother/great grandmother made it through many challenges and had to overcome many obstacles in life. Take a trip with me through time.
In 1941 the Great Depression had just ended. But World War II was still going on until 1945. A loaf of bread was 20 cents. Minimum wage was 30 cents an hour. A year's salary was around $2,000 a year. A gallon of milk was 29 cents. In those days most children had to walk to school, which was usually 2 to 5 miles away from their home. Segregation was still in effect, meaning black children couldn't go to school with white children until 1955.
She witnessed the first color television, the Vietnam War, the B-29 bomber (when America dropped the bomb on Hiroshima), the hydrogen bomb, the Cuban missile crisis in 1962, the Civil Rights Act of 1964. She lived through the Watts riots in 1965, the Detroit riots of 1967, the Gulf War, Desert Storm, the War in Afghanistan, the September 11th attack "the falling of the Twin Towers," and the Ukraine War. She saw humanity put the first man on the moon. The first black astronaut Robert Henry Lawrence, the assaination of Martin Luther King Jr in 1968, the assaination of brother Malcolm X in 1965, and the beginning of the Black Panther Party in 1966. She saw the death of Dr. Huey P Newton of the Black Panther Party (who is also our cousin) in 1989. The fall of the Berlin Wall 1989. The Iran-Iraq War. The 1992 L.A. riots, the first black president. And she witnessed a total of 15 presidents in her lifetime.
Her father Lawerence Turner was a Buffalo Soldier of the 10th Cavalry Regiment. These soldiers were known for their bravery and courage; they were considered to be indestructible soldiers that would fight to the death at a moment's notice. He also was a 33rd degree Mason and his wife Cynthia was a lady of the Eastern Star. And this is just to name a few.
The family you come from and blood that flows throughout your body is rich in history and don't you ever forget it or allow anyone to tell you otherwise! But now it is time for you to take your rightful place on the throne and stand beside the ones that are with you, for the ones that came before you. "WE ARE ONE"