Ricardo Lagmay Farinas Sr.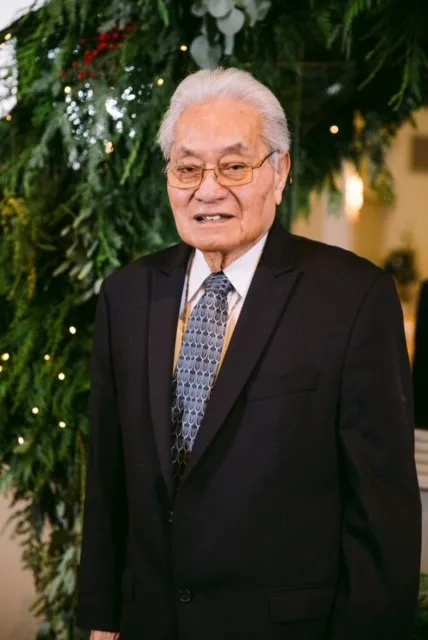 Obituary
Son of Atanacio and Josefa Fariñas, Ricardo Lagmay Fariñas, Sr. was the youngest of three (after Cristito Fariñas and Placida Morales), born on February 6, 1925, in Sinait, Ilocos Sur, Philippines.
In 1941, the Japanese invasion of the Philippines began just 10 hours after Pearl Harbor was attacked during WWII. At the time, Ricardo was 16 years old and was too young to serve in the military, so he supported the resistance efforts with the Bolo Men (guerrilla soldiers) by trekking through the jungles to deliver ammunition to the front lines.
In 1950, with the support and encouragement of his Mom, Ricardo boarded the SS General W.H. Gordon then traveled across the ocean to the United States in pursuit of a college education and a better life for himself and his future family. On his journey, he spent 18 days below deck in the hull of the ship, as Filipinos were not allowed on the upper decks.
Upon his arrival in the US, Ricardo spent a brief stint in Wapato, Washington where his father and uncles were farmers. Soon thereafter, he applied and was accepted to attend the University of Washington (UW) where he studied business and political science. Ricardo worked 2-3 jobs to finance his education and support himself throughout college. In addition to being a student, Ricardo was heavily involved in the community on campus as a member of the International Club of the Philippines and Filunist (a UW & Seattle University Filipino student organization). He and his friends formed a dance troupe and shared Filipino culture at various community events.
In 1954, Ricardo met and married the love of his life, Rosita del Fierro, and started their family of five children in Seattle, WA. Committed to supporting his family, Ricardo worked at various companies such as Isaacson Steel and the Boeing Company.
In 1965, one year after Title VII of the Civil Rights Act of 1964 became federal law prohibiting employment discrimination based on race, color, religion, sex and national origin,the US government established the Equal Employment Opportunity Commission (EEOC). In 1970, Ricardo started his career as the first Filipino EEOC investigator where he helped to establish EEOC's office in Washington. For almost 30 years, Ricardo passionately investigated employment discrimination complaints and secured significant settlements for complainants that ensured equal employment opportunities. Ricardo also assisted organizations and companies both large and small in the development and implementation of policies and procedures in accordance with Title VII. One of Ricardo's proudest achievements was his involvement in the class action suit to improve the living conditions and employment opportunities for Filipinos in the Alaskan canneries.
Ricardo and his wife Rosita were active and valued members of the Filipino community, including the Filipino Community of Seattle Inc., the Filipino Youth Activities, and the Filipino Americans Concerned for Equality (FACE). Ricardo served as Vice-President of the Filipino Community of Seattle for 12 years and was instrumental in the purchase of the Filipino Community Center, creating a space where Filipinos could gather.
Ricardo and Rosita were Godparents, mentors and advocates for many. They always welcomed people into their home to visit, seek advice, meet, strategize, laugh, eat and/or pray. During their 67 years of marriage and faithful ministry through the church, they were regarded as community leaders. Ricardo was a "Promise Keeper" and together, he and Rosita served as facilitators for the "International Couples for Christ" ministry, counseling couples and supporting marriages. For over 20 years, Ricardo led prayer groups at the Filipino Community of Seattle and the International Drop-in Center (IDIC), where he was affectionately known as "Father Dick." Ricardo was an active member of St. Paul's parish for 50 years where he served as a Eucharistic minister.
Ricardo's motivation wasn't money, riches or fame; his mission was simply to support and ensure the salvation and eternal security of his children, grandchildren and great grandchildren through the knowledge and teachings of our Lord and Savior Jesus Christ.
Ricardo was preceded in death by his beloved wife of 67 years, Rosita B. Fariñas. He is survived by his children Josefina Fina Marino (Ricky Marino), Dolores Lolie Fariñas (Jowell Rollolazo), Ricardo Ric Fariñas Jr. (Ruby Fariñas), Armando Nano/Mando Fariñas and Veronica Yaya Cabading (Timothy Cabading), his grandchildren Miguel Marino (Carolyn Marino), Salvador Marino (Cassie Marino), Reyna Rollolazo, Solana Rollolazo (Teina Radford), Andreano Dre Fariñas, Manny Fariñas (Chelsea Fariñas), Nicola Coco Cabading, Cecilia Cece Cabading, Izzi Cabading, and his great-grandchildren Desmond, Marcus, Noelle and Gray Marino, Ella & Bronson Fariñas and Gabriel and Valentina Sanders.
Matthew 25:21
"Well done good and faithful servant"
To view Ricardo's documentary created by the Filipino American National Historical Society (FANHS) go to: Ricardo "Dick" Fariñas, Sr. Documentary 2022 – Pioneer & Catalyst for Social Justice and Equity – YouTube
To make a donation to FANHS in honor of the memory of Ricardo, go to: Donate – FANHS (fanhs-national.org)