Betty Jane Broetje
1926 – 2017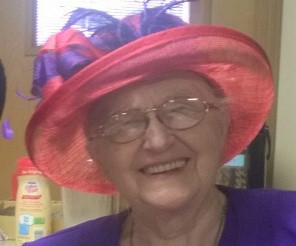 More Photos
Obituary
Betty Jane Broetje
1926-2017
Betty Jane Broetje passed away on Wednesday, December 20, 2017 of natural causes. She was born in Yakima, Washington, one of 8 children of James and Gladys Sanford. She grew up in Yakima and graduated from Yakima High School, where she played the trombone in the High School Band. She met the love of her life, Floyd H. Broetje, at the roller skating rink in Seattle, Washington and they were married on June 28, 1944. Floyd worked at the Bremerton Ship Yards and later drove busses in downtown Seattle. They then moved back to Yakima and also lived in Bellevue where they raised four sons and a daughter.
Betty worked as a waitress in Yakima and later became a Licensed Practical Nurse and worked at the University of Washington Hospital where she met her adopted daughter, Sharon. She continued her work as a Nurse at the Bellevue Terrace Nursing Home. Floyd and Betty were blessed with 6 children, Doug, Steve, Rick, Tom, Kristy, and Sharon
Betty enjoyed traveling the country with her sons and daughters and loved playing the piano and singing with relatives, friends and members of her church. She was an active member of the Monroe Faith Center Church in Monroe, Washington.
She was preceded in death by her sisters Tina, Blanche and Mary, her brothers David, Danny and Jim, her husband Floyd after 59 years of marriage in 2003, her son Steve Broetje in 2007 and daughter, Kristine Gehlhausen in 2016.
She is survived by her sister Naomi Luxon of Chandler, Arizona, her sons Doug Broetje and his wife Susan of Boise Idaho, Rick Broetje of Bothell, Washington and Tom Broetje and his wife Cindy of Bothell, Washington, daughter Sharon Kitchen and her husband Darryl of Granite Falls, Washington, daughter-in-law Nancy Broetje of Mesa, Arizona and son-in-law Timothy Gehlhausen of Woodinville, Washington. She has 9 grandchildren, Jennifer, Jenny, Adam, John, Hannah, Lydia,Curtis, Scott, Charlene, and Rachel and 8 great grandchildren, Jason, Samantha, Lizzie, Kyla, Trinity, Kaloni, Autumn and Arya.
Two days before her death, she said she saw the "white dove" that was to take her to meet her Heavenly Father in Heaven. She was a wonderful wife, mother, and grandmother and will be missed by all who knew and loved her.
A memorial service will be held Sat, Jan. 6th at 2:00 at Life Community Church in Kirkland, WA.
232 5th Avenue South, Kirkland, WA. 98033
Guestbook
This obituary is provided by Bonney-Watson, providing caring and compassionate funeral, cremation and cemetery services since 1868. We have a professional staff, four funeral homes, two cremation facilities and one of the largest cemeteries south of Seattle, as well as a comprehensive grief support program.
_