Bounnhong B Saiyasen
Jan 1, 1956 - Aug 2, 2019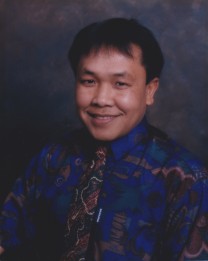 Obituary
On August 2, 2019, Bounnhong (Boone) Saiyasen, a loving husband, brother, and uncle, passed away at the age of 63 after a 6 month battle with stage 4 Lung Cancer.
Boone was born on January 1, 1956 in Kengkok, Laos to Vandee and Koum Saiyasen. Boone and his wife Phitsamay (Mai) escaped Laos after the communist rise and stayed in the Ubon refugee camp for one year in 1978. They arrived in the United States on October 31st, 1979 and made Seattle their new home. He started his new chapter in life working at Trace and quickly worked his way quickly through the ranks.
After a few years, Boone taught himself how to cook and opened his first restaurant, Saya, with his wife Mai in 1987. Since then they started two other restaurants, Savan and Mai Thai.
Boone was a lover of animals. He spent a majority of his time giving their dogs a ton of love as well as raising his chickens. Not only was he a great cook and entrepreneur, but he also happened to be a great handyman. If he wasn't spending time with his dogs, you might have caught him flying back and forth to Laos, or cheering on his Seahawks.
Bounnhong was preceded in death by his father, Vandee, his mother, Koum, his brother, Sythat, his brother, Bounyou, and sister, Boualy. He is survived by his wife Phitsamay (Insixiengmay) Saiyasen, his sister, Ghot, his sister, Khamsoth, his brother Khamsene, his sister, Sipaphone, his brother, Vanxay, and many cousins, nephews, and nieces. A funeral service will be held Sunday, August 11th, 2019 at Bonney Watson on 16445 International Boulevard, SeaTac, WA, 98188, at 11 o'clock a.m to 2 o'clock p.m.
"I can't think of anything more that could have been done at a time when I needed help and care."
Jean P. Seattle
"We received outstanding service, from front desk to funeral director to family service and beyond."
Deborah M. SeaTac
"The staff went out of their way to show us kindness and helped with several additional needs."
Norma N. Auburn
"The staff was prompt, courteous, helpful, and most of all, caring."
Leslie W. Tacoma
"They really care for people and go out of their way to make things easier."
Kathleen S. Federal Way
"The funeral home is a nice, warm and inviting place. Thank you for your kindness in our loss."
Deborah N. Burien
"We are so pleased with Bonney Watson. They were very professional in every way."
Anita H. Normandy Park