Consuelo Barrago Ordinario
Nov 28, 1921 - Aug 11, 2019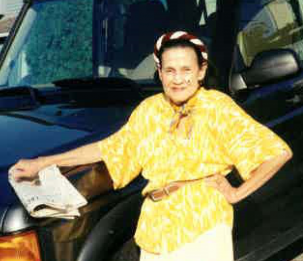 Obituary
Consuelo Barroga Ordinario passed away on August 11, 2019 at the impressive age of 97 in Des Moines, Washington. She lived a long and full life and will be greatly missed.
Consuelo was brought into this earth on November 28, 1921 in Bauang La Union in the Philippines by her beloved parents Esteban and Isabel Barroga. Consuelo had six siblings, all except "Uncle" Manuel Barroga have proceeded her in death.
As a young woman, Consuelo married Federico Ordinario and together they had ten children all in the Philippines. One child passed away as an infant but the rest of the children eventually all immigrated to the United States.
In 1982, after Federico passed away, Consuelo decided to immigrate to the United States where her daughter Isabel lived. Once in the US, Consuelo obtained her US Citizenship so that she could sponsor the rest of her eight children to come over as well.
In the United States, Consuelo worked for Catholic Community Services as a care giver to the elderly. She loved her work and was passionate about her faith.
In her free time, Consuelo greatly enjoyed singing and dancing and was a proud member of the Bibak community. She also loved to knit and create items she would give to her elderly clients. She was also an avid gardener.
Consuelo leaves behind on brother, nine children, five grandchildren, and eight great grandchildren. Services for Consuelo will be held at the Bonney Watson Funeral Home in SeaTac, WA with burial to follow at Washington Memorial Park on Saturday, August 24th. A visitation will be held the evening before at the funeral home.
"I can't think of anything more that could have been done at a time when I needed help and care."
Jean P. Seattle
"We received outstanding service, from front desk to funeral director to family service and beyond."
Deborah M. SeaTac
"The staff went out of their way to show us kindness and helped with several additional needs."
Norma N. Auburn
"The staff was prompt, courteous, helpful, and most of all, caring."
Leslie W. Tacoma
"They really care for people and go out of their way to make things easier."
Kathleen S. Federal Way
"The funeral home is a nice, warm and inviting place. Thank you for your kindness in our loss."
Deborah N. Burien
"We are so pleased with Bonney Watson. They were very professional in every way."
Anita H. Normandy Park