Dorothy Ann Tomich Carter
Oct 1, 1922 - Jul 28, 2019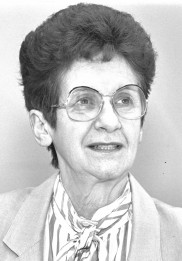 Obituary
Dorothy Ann Tomich Carter
Dorothy Carter passed away peacefully on July 28, 2019 in West Seattle at the age of 96 from complications due to Alzheimer's.
Her path through life started as a coal miner's daughter. She married and raised a family, then founded and grew a business with offices in multiple states and a national reputation for excellence.
Dorothy was born on October 1, 1922, to George and Frances Tomich in Roslyn, Washington. She was the youngest of five children, with siblings Eva, Marie, Phyllis, and John. She grew up in Roslyn and enjoyed hiking trails and outdoor activities throughout Kittitas County.
After graduating from Cle Elum High School, she married the love of her life, Coy I. Carter, and moved to Seattle. The newlyweds initially lived in South King County, and soon found themselves the parents of twins, Joan and Jerry. As the family grew, they settled in West Seattle, where Claudia, Andrea, and Greg were added to the family.
During the late 50's, Dorothy began working in the emerging field of market research, which led to her founding her own company, Dorothy Carter Research. The business initially operated out of the family home, but it soon outgrew it, which led to opening an office and incorporating the business as Consumer Opinion Services in 1973. The company continues to operate today as a family run business, with offices in Seattle, Portland and Las Vegas, with nearly 100 employees.
While Dorothy's days were occupied with running and expanding her business, she still made time to be with family, camping, doting on grandchildren, gardening, boating through the San Juan Islands and Puget Sound, and occasionally picking up a fishing pole.
After retiring from her business at age 75, she kept busy with travel, family and gardening. One of her passions was her Croatian heritage, and she attended many Croatian dance festivals throughout the Northwest. At 85 she was still living in her house and working in her garden in West Seattle's Arroyo Heights neighborhood.
Growing up in a small rural town during the depression, Dorothy learned the ins and outs of fishing and hunting as part of everyday life. After marrying, the newlywed couple traveled to Texas to meet Coy's family. Squirrel hunting was a popular activity in Texas, and Coy and his male relatives went hunting, with Dorothy being the only woman in the hunting party. The guys were making jokes about the "little lady carrying a gun". When the dogs treed the first squirrel, they decided to follow "ladies first", and let Dorothy have the first shot, thinking that she had little knowledge of how to operate a firearm, let alone hit something. Dorothy hit the squirrel between the eyes with the first shot. The guys didn't make any more "little lady" jokes after that.
Dorothy is survived by her children: Jerry Carter and spouse Bonnie, Joan Carter and spouse Sue Lorain, Claudia Carter Smith, Greg Carter and spouse Kitrina; grandchildren Kris Graham, John Rumpf, Lea MacDonald, Alex Carter, AJ Carter, Grace Carter, Shawn Serdahl, Doug Serdahl, Josh Serdahl; 16 great-grandchildren, and four great-great-grandchildren. She was preceded in death by the rest of her immediate Tomich family, her fourth child Andrea, and husband Coy.
She is reunited with and interred next to Coy at Washington Park Memorial Cemetery in Seattle.
Memorial contributions may be made to one of Dorothy's favorite charities, Seattle Children's Hospital, or the Alzheimer's Association.
"I can't think of anything more that could have been done at a time when I needed help and care."
Jean P. Seattle
"We received outstanding service, from front desk to funeral director to family service and beyond."
Deborah M. SeaTac
"The staff went out of their way to show us kindness and helped with several additional needs."
Norma N. Auburn
"The staff was prompt, courteous, helpful, and most of all, caring."
Leslie W. Tacoma
"They really care for people and go out of their way to make things easier."
Kathleen S. Federal Way
"The funeral home is a nice, warm and inviting place. Thank you for your kindness in our loss."
Deborah N. Burien
"We are so pleased with Bonney Watson. They were very professional in every way."
Anita H. Normandy Park