Dorothy Eleanor Roe
March 1, 1918 - February 14, 2014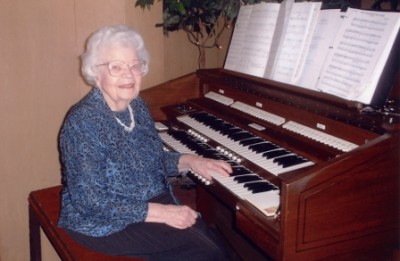 Obituary
Dorothy Eleanor Roe
Dorothy Eleanor Roe was born to Harry and Lydia Rasmussen on March 1, 1918 in Tacoma, Washington, and died on February 14, 2014 in Seattle, Washington after a brief illness. Early in her life, she came to understand that Jesus loved her and died to forgive her sins and give her a personal relationship with God. She put her trust in Him and this faith became the core of who she was. This fact was reinforced in her will where she stated: "…I, Dorothy E. Roe… realizing the uncertainty of this life, and with full confidence in our Lord and Savior, Jesus Christ, through whom we have life eternal, declare this to be my Last Will and Testament."
Dorothy loved life! As a girl, she loved rowing a boat by herself far out into south Puget Sound, particularly when it involved salmon fishing which she did as often as she could. She also rode horses, and being an only child, enjoyed the brotherly teasing of her best friend's brothers.
Dorothy took piano lessons from an early age. She LOVED to practice, and quickly excelled in her skill and love for music. She played piano for large concerts, including playing for 2000 people at age 16, and playing the background music for commercials on live radio. She was still a teen when she began playing piano in her church and also teaching piano lessons. At one point she had 150 students weekly which included group classes as well as individual lessons.
Dorothy was married to Richard Allan Roe in 1947 after he, too, chose to put his trust in Jesus Christ. Together they raised their children, Patricia, Stephen and David, to know about Jesus and see what true faith looked like, so that later, each one also made their own individual choice to become a follower of Jesus Christ.
During the family years, Dorothy taught piano in her home, teaching 25 or more students weekly in private lessons. She also joined a women's bowling league, learned and enjoyed cake decorating and loved working in her garden. Along with her husband she did a lot of camping and hiking, and became a sports fan. At several points, she cared for her grandmother, parents and mother-in-law in her own home.
When Dorothy was 58, Allan died in a car accident in which she was also injured. She continued to be active as church organist and piano teacher. For a number of years, Dorothy hosted a Bible study in her home, the most recent study being held just the week before she died. She enjoyed concerts, trips to the mountains or the ocean, in particular to Cannon Beach, and kept active by walking in the neighborhood. She became a life-long, enthusiastic, but long-suffering Seattle Mariner's fan, watching nearly every game on TV and knowing the key statistics of the players. She also cheered on the Huskies and the Seahawks.
Dorothy retired from piano teaching at the age of 95. Although she lived with frequently debilitating back pain resulting from the earlier car accident, she continued to be cheerful. Even when issues relating to an aging body forced her to slow down and spend most of her time on "her" spot on the couch, she said, "I love life! I'm happy!" – and she was. She never complained. She never deviated from her daily time spent in Bible reading and prayer – prayer for each one of us, not only her family, but also for you.
We miss her greatly, but rejoice picturing her pain-free in Heaven with the Lord Jesus Christ whom she lovingly served, and joyfully reunited with her husband, granddaughter, and others. We anticipate the day when those of us who share her faith will be reunited with her in Heaven.
You are invited to the Memorial Service for Dorothy Roe, celebrating her life and her passing into the presence of her Lord and Savior, Jesus Christ
— Saturday, March 1 at 3 pm
— Haller Lake Baptist Church
14054 Wallingford Ave N
Seattle, WA
— Reception following
For those who desire to attend, the Graveside Service will be
— Saturday, March 1 at 10 am
— Bonney-Watson/ Washington Memorial Park
16445 International Blvd
SeaTac, WA
If desired, memorial gifts may be designated "In Memory of Dorothy Roe" and sent to:
New Tribes Mission, 1000 East First Street, Sanford, FL 32771-1487 & designated for Noe & Lisa Martinez #900068; or call 1- 866-547-2460, ext. 1245
Wycliffe Bible Translators, PO Box 628200, Orlando, FL 32862-8211 & designated for Dr. Gordon Whitney Family #219486 or online: http://www.wycliffe.org/Give/waystogive/giveonline.aspx