Emma Arletta Smither
Jan 6, 1942 - Sep 19, 2019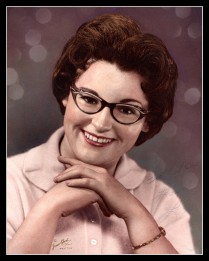 Obituary
Emma Arletta (Lea) Smither, age 77, of Monroe, WA, passed away Thursday Sept. 19,2019 In Everett.
She was born Jan. 6th, 1942, in Brownwood TX, she moved to Washington state with her mother, stepfather, sister and stepsister in the early 1950's.
Lea graduated from West Seattle High School in 1960 and was a member of the marching band. Lea and her sisters enjoyed getting dressed up and going to the School dances. She married Ace Smither in 1962 and was a homemaker and raised 4 Children She later attended college and earned her Associates Degree and worked as a Certified Nursing Assistance in Monroe until she retired. She enjoyed music and spending time with her grandchildren.
Lea is survived by her sister, Charlotte Hood, three daughters and two sons and thirteen grandchildren. She also leaves many other family members and friends who will sadly miss her.
Funeral service will be held 1 p.m. Thursday October 3rd, at Bonney Watson Funeral Home in Sea Tac, WA with burial to follow at Bonney Watson Cemetery.
Reception is from 3 p.m. to 5 p.m. after the burial at the funeral home.
Bonney Watson Funeral Home and Cemetery
16445 International Boulevard
Sea Tac, WA. 98188
To everything there is a season, a time for every
matter under heaven; a time to be born,
and a time to die; a time to plant,
and a time to pluck up what is planted;
a time to weep, and a time to laugh,
a time to mourn, and a time to dance;
a time to keep, and a time to cast away.
-Ecclesiastes
"I can't think of anything more that could have been done at a time when I needed help and care."
Jean P. Seattle
"We received outstanding service, from front desk to funeral director to family service and beyond."
Deborah M. SeaTac
"The staff went out of their way to show us kindness and helped with several additional needs."
Norma N. Auburn
"The staff was prompt, courteous, helpful, and most of all, caring."
Leslie W. Tacoma
"They really care for people and go out of their way to make things easier."
Kathleen S. Federal Way
"The funeral home is a nice, warm and inviting place. Thank you for your kindness in our loss."
Deborah N. Burien
"We are so pleased with Bonney Watson. They were very professional in every way."
Anita H. Normandy Park