Emma Berniece Jones
Oct 7, 1936 - Sep 16, 2019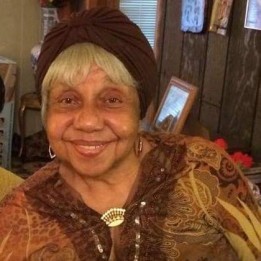 Obituary
On Monday, September 16, 2019 at 6:15 p.m. in a quiet room of Swedish Cherry Hill hospital a precious angel named Emma Berniece Jones (Moore) departed this Earth surrounded by close family.
Emma Moore was born on October 7, 1936 in Hurricane Alabama to Leola Peachtree and John Moore she was the fourth born of five children; Thelma Malone (deceased), Louise Clanton (deceased), Dorothy Givens (deceased) and Samuel Moore (deceased). At the age of 16 she met and was courted by Johnny N. Jones and later had a son named Samuel A. Jones (deceased) before they married in late 1958. Also, within that same year they had another son named Johnny C. Jones. Seeking a better life for their family Emma and Johnny Jones migrated to Seattle Washington in 1960. Establishing their roots in Seattle Johnny worked for Boeing and Emma worked various careers from nursing, to Boeing and The Facts Newspaper before she finally retired from the City of Seattle. In addition to her career, over the years she also achieved many accomplishments received awards/accolades, published a book of poetry, opened Koinonia school grades K-12 (5 years), opened Koinonia restaurant (5 years), was a Chaplin for Seattle Police department (10 years) and obtained a Doctorate in Theology.
Emma had a love for music and became well known throughout the community from playing the organ/piano at various churches such as Damascus, New Hope, Tabernacle and First AME just to name a few. Her musical drive encouraged her to open the "Joneses" Music Studio where she taught her grandchildren and members of the community music. Although music was her first love her true passion was teaching the word of God. This led her to pastor her own church The Church at South Seattle for 20 years. Emma also found ways to give back to the community by operating a food bank, computer lab and coffee truck through the church.
Her sense of humor, compassion for helping others, cooking, wisdom, and music will be truly missed. Emma Jones leaves behind to mourn her husband Johnny Jones, Sr., son Samuel Jones (preceded by death) son Johnny Jones, Jr., sister in law Denise Moore (Sam Moore), niece Brenda Moore (Sam Moore), Mary Margaret Moore (Sam Moore), grandchildren: Monique Jones (Sam Jones), Samuel Jones, Jr. (Sam Jones), Kyleeha Jones (Sam Jones), Jonathan Jones-Thomas (Sam Jones), Michael Jones (Sam Jones), Taylor Jones (Sam Jones), Benjamin Jones (preceded by death/Sam Jones), Elias Jones, Charlotte Jones, great grandchildren: Travonne Jones, Saphiera Jones, Kameron Jones, Jaylen Thompson, Jayda Thompson, TyResha Jones-Smith, Menyea Barbas, MaLana Barbas, Tracey Jones, Sa'Mya Jones, Imani Strange, Mariay Jones, Paulino Quevedo, Cinthianne Quevedo, Favein Bonet, Connor Jones, Emma Jones, great niece and nephews: Breana Moore-Roscoe, Chauncey Jones (preceded by death), Brendan Toms, Jahmir Derrico and many other family and friends.
Her service will be held on Saturday, October 5, 2019 11:00 a.m. at Holly Park Community Church located on 4308 S Othello St., Seattle, WA 98118. Viewing will be from 9:00 a.m.-11:00 a.m. The repast will take place at 3:00 p.m. at the same location.
"I can't think of anything more that could have been done at a time when I needed help and care."
Jean P. Seattle
"We received outstanding service, from front desk to funeral director to family service and beyond."
Deborah M. SeaTac
"The staff went out of their way to show us kindness and helped with several additional needs."
Norma N. Auburn
"The staff was prompt, courteous, helpful, and most of all, caring."
Leslie W. Tacoma
"They really care for people and go out of their way to make things easier."
Kathleen S. Federal Way
"The funeral home is a nice, warm and inviting place. Thank you for your kindness in our loss."
Deborah N. Burien
"We are so pleased with Bonney Watson. They were very professional in every way."
Anita H. Normandy Park