Eva Jo Taylor
Sep 22, 1937 - Sep 4, 2019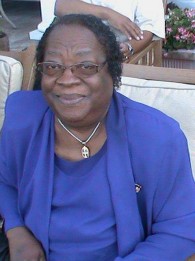 Obituary
Evangelist Eva Jo TAYLOR
81, Tacoma, WA, went home to be with the Lord on September 4, 2019. Evangelist Eva Jo Taylor was born September 22, 1937 in the State of Texas to Ms. Myrtle Cline-Pate and Mr. Eulysee Lee.
Evangelist Taylor received her formal education in the public school system of Texas. She married Elder Eugene Taylor in April of 1958, in Chicago, Illinois. God blessed that union with six children. She was a dedicated family woman and church worker that loved the Lord. She always made sure that all her children knew of God, his ways, and if we stepped out of line, she would always say that is not of the Lord. If you were to call her and ask for advice, her first response would always be what does the bible say about that. She was a loyal, faithful, devoted, mighty prayer warrior. If she could not make it out to noon day prayer, she would lock herself in her bedroom and pray, pray, pray for what would seem like hours as a kid. She would be praying, calling on the name of Jesus. She worked faithfully as a 1st Lady by her husband's side in the vineyard for the Lord for over 30 years. Her work along with Elder Eugene Taylor has been a blessing to her family, the community and the people of God.
Evangelist Eva Jo Taylor was preceded in death by her husband Elder Eugene Taylor, her son Chris Taylor, her father Eulysee Lee, her mother Myrtle Cline-Pate, her sister Elle Jean Hoskins. She leaves to cherish her memory 3 daughters Lana Taylor-Vann (Michael) of Tacoma, WA, Eugenia Taylor of Sea Tac, WA, Joan Robinson (Michael) of Tacoma, WA, Rodney Taylor of Tacoma, WA, Demetrius Taylor of Federal Way, WA, her sister Valerie Jones of Waco, TX, her sister Glendean Sharkey (Lloyd) of Waco, TX, her brother Glenn Pate of Waco, TX, her brother Kalvin Thompson (Wanda) of Waco, TX, her brother Edward Lee of Federal Way, WA several grandsons and granddaughters, nieces, nephews, friends and church family.
"I can't think of anything more that could have been done at a time when I needed help and care."
Jean P. Seattle
"We received outstanding service, from front desk to funeral director to family service and beyond."
Deborah M. SeaTac
"The staff went out of their way to show us kindness and helped with several additional needs."
Norma N. Auburn
"The staff was prompt, courteous, helpful, and most of all, caring."
Leslie W. Tacoma
"They really care for people and go out of their way to make things easier."
Kathleen S. Federal Way
"The funeral home is a nice, warm and inviting place. Thank you for your kindness in our loss."
Deborah N. Burien
"We are so pleased with Bonney Watson. They were very professional in every way."
Anita H. Normandy Park