Gertie Maye Goldson
Nov 15, 1942 - Feb 28, 2019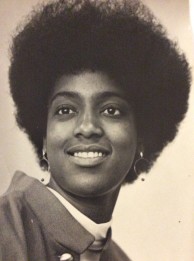 Obituary
Gertie Maye Goldson; known mostly by all who new her, as just "Gertie"; was born on November 15th, 1942. Born to Cinderella, and Walter Patterson of Weleetka, Okla.; Gertie began life's journey as a small town, country girl, surrounded by the love of a very large extended family…all of whom lived within a few miles of one another. This strong family unit was the foundation for Gertie's strong faith, love of life, and sense of purpose.
Gertie attended Rosenwald Dumbar (the segregated primary in her town); through the 8th grade. It was during this time that she joined, and was baptized into the body of Christ, at First Baptist South, in Weleetka, Okla. By the time she began the 9th grade; schools in the area were no longer segregated, and she attended Weleetka Public School. The eldest of two daughters from an active duty military Father; she moved to Colorado Springs, Colorado; where she would ultimately graduate high school. She continued her education at Monterey Peninsula Junior College, where she engaged in many athletic activities; most notably being inducted into the Monterey Peninsula Junior College Sports Hall of Fame for basketball.
Another family move; courtesy of the military took Gertie to Seaside, Ca., where she met, and wed Melvin Mason. She had one Son; Vincent Mason DuPree. After the dissolution of Gertie's marriage to Melvin, she and her Son, Vincent moved to Seattle, Wa. There, she met, and had a short marriage to John Hayes. Still continuing to grow into the woman known to all as just "Gertie"; she tapped into all of her talents, creative skills, and life experiences, and became a powerfully active, and influential figure in the Central Area of Seattle…the "C.D"
Gertie started one of, if not the largest cheerleading squads in Seattle; sometimes with as many as 40 cheerleaders. She formed this group after her Son joined the pop warner football team at "C.A.Y.A" (Central Area Youth Association) and she noticed there were no cheerleaders. She developed a squad for all the different age groups of the program.
During her early 30's Gertie was diagnosed with two devastating and incurable diseases. Multiple Sclerosis, and Diabetes. Despite those diseases she lead a very full, and active life.
In 1979 she met Rev. Edsel Goldson at a Valentines Day Dance hosted by Grace United Methodists Church. They married in 1981. This past March 14th, would have been their 38th wedding anniversary. Gertie had many opportunities to travel extensively. She visited the following countries: Germany, France, Singapore, Japan, Canada, and Mexico. She also visited the following island resorts: Jamaica, St. Thomas, St. Croix, Hawaii, the Bahamas, and most of the 50 United States.
Gertie is survived by Husband; Rev. Edsel Goldson, Son; Vincent DuPree, Grandson; Cason Jordan DuPree, Sister; Peggy Patterson, Niece; Kiila Patterson, Nephew; Osazi, and a host of loving family and friends.
"I can't think of anything more that could have been done at a time when I needed help and care."
Jean P. Seattle
"We received outstanding service, from front desk to funeral director to family service and beyond."
Deborah M. SeaTac
"The staff went out of their way to show us kindness and helped with several additional needs."
Norma N. Auburn
"The staff was prompt, courteous, helpful, and most of all, caring."
Leslie W. Tacoma
"They really care for people and go out of their way to make things easier."
Kathleen S. Federal Way
"The funeral home is a nice, warm and inviting place. Thank you for your kindness in our loss."
Deborah N. Burien
"We are so pleased with Bonney Watson. They were very professional in every way."
Anita H. Normandy Park