Joanne Phyllis Sundquist
Aug 8, 1936 - Jul 20, 2019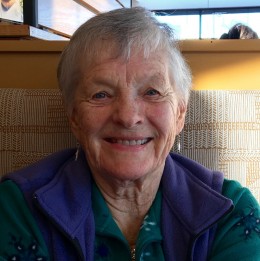 Obituary
Joanne Phyllis Sundquist went to her Lord on July 20, 2019 in Renton, WA.
Joanne was born in Aneta, North Dakota on August 8, 1936. She was the youngest of nine children.
The family moved to Poulsbo, WA in 1947. Joanne attended and graduated from North Kitsap High School.
Joanne was employed by Harborview Medical Center as a Medical Technologist and retired in 1992. Friends and colleagues called Joanne "Sunny". It was because of her positive outlook on life and her beautiful smile.
Joanne was an athlete before Title 9 was adopted. She played fast pitch softball in the 1950's for the Bremerton Blue Jackets as a pitcher. She was a goalie on her soccer team, played racquet ball and participated in the Senior Olympics. She also enjoyed playing golf in the early mornings with her women's golf league.
Joanne was also very proud of her Scandinavian heritage and enjoyed making Lefsa and sharing it with family and friends at the holidays. She gathered the family together for the annual lutefisk supper in Auburn and was involved in preparing many potato dumpling feasts.
Joanne wintered in Arizona, often entertaining family and friends. She enjoyed her travels in a customized van purchased after retiring. She and Shirley had many adventures.
Joanne loved her family, was forever the pesky little sister. She was also the "favorite" Aunt. She loved getting to know her nieces and nephews and was happy to be included in their outings and events. She always made you feel special.
Joanne was a caring, selfless, loving person. She loved the Lord and was a faithful follower. She was an active member at Trinity Baptist Church. She volunteered with the kids group and as a Sunday greeter.
Joanne is survived by her brother Bob and many nieces and nephews and good friend Shirley Bliss.
The family would like to thank Dr. Ingber and Dr. Goi and nurse staff and all the kind nurses at the Infusion Center. Joanne referred to her visits to the infusion center as her "spa day". Thank you all for taking such good care of our sister and aunt.
Donations may be made to Trinity Baptist Church, 18652 116th Ave SE, Renton, WA., or to the Vinland Cemetery Fund, 2750 NW Finn Hill Road, Poulsbo, WA 98370.
"I can't think of anything more that could have been done at a time when I needed help and care."
Jean P. Seattle
"We received outstanding service, from front desk to funeral director to family service and beyond."
Deborah M. SeaTac
"The staff went out of their way to show us kindness and helped with several additional needs."
Norma N. Auburn
"The staff was prompt, courteous, helpful, and most of all, caring."
Leslie W. Tacoma
"They really care for people and go out of their way to make things easier."
Kathleen S. Federal Way
"The funeral home is a nice, warm and inviting place. Thank you for your kindness in our loss."
Deborah N. Burien
"We are so pleased with Bonney Watson. They were very professional in every way."
Anita H. Normandy Park