Maria Mastandrea
Dec 7, 1922 - Mar 30, 2019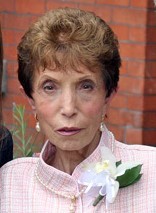 Obituary
Maria passed away peacefully on March 30, 2019. She was born on December 7, 1922, in Morrone del Sannio, Italy to parents Antonio and Emanuella Carbone.
Maria came to Seattle in November, 1951 where she and her spouse built a home and family together. They were married for 60 years when Domenico preceded her in death.
She was a homemaker and worked hard keeping the home perfect. She was proud of her flower gardens and loved to walk the neighborhood in her younger years. She always believed in family and keeping and helping them be together.
Maria is survived by son John, daughter Lita (Bernie) Swanson and 3 grandchildren. She is preceded in death by her brother Luigi Carbone.
The family of Maria Mastandrea would like to say a special thank you to caregiver at Country Crest Adult Family Home. Marina, you took care of Mom as your own and we will always treasure this.
Funeral Mass 11:00AM Monday April 8, 2019 at St. Bernadette Catholic Church.
Until we meet again, Mom.
"I can't think of anything more that could have been done at a time when I needed help and care."
Jean P. Seattle
"We received outstanding service, from front desk to funeral director to family service and beyond."
Deborah M. SeaTac
"The staff went out of their way to show us kindness and helped with several additional needs."
Norma N. Auburn
"The staff was prompt, courteous, helpful, and most of all, caring."
Leslie W. Tacoma
"They really care for people and go out of their way to make things easier."
Kathleen S. Federal Way
"The funeral home is a nice, warm and inviting place. Thank you for your kindness in our loss."
Deborah N. Burien
"We are so pleased with Bonney Watson. They were very professional in every way."
Anita H. Normandy Park