Mary Joesphine Heike
May 15, 1920 - Aug 1, 2019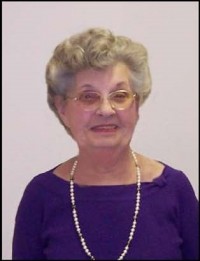 Obituary
Mary Josephine Heike was born in Detroit, Michigan on May 15, 1920. Her parents were Ada Maude (DeRegt) and Joseph Johan VanDooremaalen, both of Dutch descent. She was the youngest of two children and was preceded in death by her sister Gerarda Schoenherr and her parents.
Mary was raised in Detroit, graduated from Denby High School, then went on to work for Park Davis as a lab technician. She met her husband, Thomas Heike, at the Young's People Club at their church. They courted for two years and married in 1942. They lived in Detroit until 1956, when they moved to Gary, Indiana, so Tom could start a new job. They migrated to Washington in 1974. Their first daughter Regina, was born in 1943, followed by Pamela in 1946, Cheryl in 1950, Deborah in 1960 and Elizabeth in 1962 (preceded in death in 1986).
Mary was a marvelous wife, mother, grandmother, and friend! She spent her entire life loving and caring for her husband and family. She was a classy dresser and loved to sew! She enjoyed making clothes for herself and her children, and filled our homes with beautiful handmade draperies and re-upholstered furniture. Mary had a beautiful voice and loved to sing, especially the Ave Maria. She and Tom were beautiful dancers and till the day she died, you could see her feet moving to music. Mary loved to travel and took many family road trips across country. She loved to work on puzzles and play games, especially slots at the casino. Mary made many friends at Judson Park retirement community where she lived in her later years. She was known for her friendliness and beautiful smile!
Mary is survived by her daughters, Reggie Puzas, Pamela Klettheimer, Cheryl Hinchman, Deborah Moffat, and son-in-law Michael Moffat. Eleven Grandchildren, Christine, Paulette, Lisa, Jaqueline, Mark, Christopher, Anthony, Thomas, Kristie, Elizabeth, and Brendan. Twelve Great Grandchildren, Candy, Connor, Luke, Jamison, Raquel, Langston, Ryan, Cody, Holli, Zoe, Tyler, Joshua, Robert, and one on the way.
"I can't think of anything more that could have been done at a time when I needed help and care."
Jean P. Seattle
"We received outstanding service, from front desk to funeral director to family service and beyond."
Deborah M. SeaTac
"The staff went out of their way to show us kindness and helped with several additional needs."
Norma N. Auburn
"The staff was prompt, courteous, helpful, and most of all, caring."
Leslie W. Tacoma
"They really care for people and go out of their way to make things easier."
Kathleen S. Federal Way
"The funeral home is a nice, warm and inviting place. Thank you for your kindness in our loss."
Deborah N. Burien
"We are so pleased with Bonney Watson. They were very professional in every way."
Anita H. Normandy Park