Michael Loren White
May 27, 1946 - Mar 18, 2019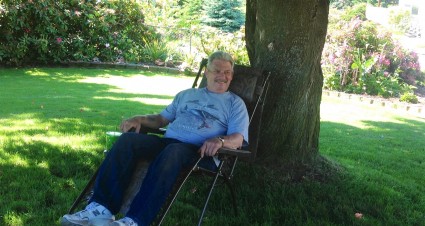 Obituary
Michael Loren White passed peacefully in the early morning hours of March 18th at Valley Medical Center from COPD.
Mike was born on May 27, 1946 in Seattle to George R. White, Jr. and Giselda Lorenzini. George was an Interpreter in the Army during WWII when he met his war bride, Giselda, in Italy. They were married by Pope Pius XII before returning to the United States.
Mike grew up in Federal Way with his three siblings: Jim, Delores and Kathy. He graduated from Federal Way High School in 1964. He joined the Marines and served two tours in Vietnam with the Marine Air Control Group 18. Returning to the United States he went back his job as a Truck Driver with the Teamsters.
Mike married Deanna on November 20, 1976 and became Dad to Harry, Mark and Jim.
Mike loved life. He enjoyed hunting and fishing. He especially enjoyed his annual hunting trips with his long time friends and family. Mike loved playing baseball and continued to play into his 40's. Every year he anticipated the start of the Mariners new season. For his 70th birthday his son Jim and his grandson's Brandon and Ethan took him to Safeco Field for a game. He was an avid bowler with a 200 average. Mike loved to work in his yard. Every year their yard was a thing of beauty, with flowers in hanging pots, many, many planters and in the flower beds. His dahlias were gorgeous. He battled with his tomatoes every year. Some years he won! Most of all Mike loved his family. He was always there to help anyone wherever and whenever they needed him.
Mike is survived by his wife, Dee, his sons, Harry (Cindy) and Jim (Julie), grandsons Brandon and Ethan, granddaughter Kristine, and brother Jim (Sue). He is predeceased by his parents, George and Giselda, his sisters Delores and Kathy and his son Mark.
Donations in Mike's name may be made to the American Lung Association or The Injured Marine Semper Fi Fund.
"I can't think of anything more that could have been done at a time when I needed help and care."
Jean P. Seattle
"We received outstanding service, from front desk to funeral director to family service and beyond."
Deborah M. SeaTac
"The staff went out of their way to show us kindness and helped with several additional needs."
Norma N. Auburn
"The staff was prompt, courteous, helpful, and most of all, caring."
Leslie W. Tacoma
"They really care for people and go out of their way to make things easier."
Kathleen S. Federal Way
"The funeral home is a nice, warm and inviting place. Thank you for your kindness in our loss."
Deborah N. Burien
"We are so pleased with Bonney Watson. They were very professional in every way."
Anita H. Normandy Park