Myrna Marie Cole
August 13, 1932 - July 8, 2008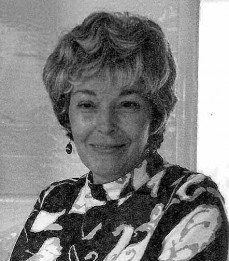 Obituary
Mom's obituary
Myrna Marie Cole; born August 13th, 1932, died July 8th, 2008.
Myrna Marie Cole, nee' Dean, died peacefully to the sound of clock chimes in the 'chart room' of the Ballard home she shared with her husband James Anthony Cole the evening of July 8th, surrounded by her watercolors and the smells of the warm summer evening. She is survived by her loving and caring husband Jim, who lovingly tended to Myrna's every need in her last months, and her children Gretchen Marie, Jonathan Lind, Daniel James and Barton Andreas Cole. She is also survived by Jaquie Chambers Cole, the wife of Jon, and their sons Joseph Floyd and Jeffery James Cole, and Joni Takanikos, the wife of Barton, and their children Jasmine Joy Takanikos and Maxin Cole-Takanikos. Myrna is also survived by her sister Verlyn Nevala; her brothers Dorance and Darold left this world before her. Her beloved and cherished feline friends and companions Chessie, Maury and Cookie were waiting for her and will keep her in good company now that she is in peace. Myrna is also in the minds and hearts of countless friends and acquaintances throughout the region.
Myrna was born on August 13th, 1932 in Spokane, Washington to her parents John Erwin Dean and Myrtle Pearl Root. Her mother died when she was young and her father married a family friend, Lena Fritz, whom Myrna loved until the day she died. Myrna graduated from Mead High School in 1949 and came to Seattle in 1950 to become a secretary and bookkeeper, a career at which she was highly successful. She went to work in the seafood industry, primarily at Whitney-Fidalgo Seafoods in Ballard, where Sam Rubenstein, a man whom she always revered, mentored her. In 1963 Myrna took a position at Marco where she met her future husband Jim, who later became a widower with four young children. They fell in love, and in 1968, at the height of her career, Myrna made a difficult choice and took on the role of wife and mother to Jim and his family, perhaps the biggest challenge of her life. But Myrna was successful in all her endeavors: she raised four happy and healthy children who are now prosperous and productive adults, some with families of their own; she was endlessly supportive in practical matters and an inspiration and muse to her husband, Jim, throughout his career as a veteran marine architect, maritime historian and artist, traveling with him on business across the globe and gaining friends along the way. And lastly, Myrna was a loyal friend and motivator to those folks who were lucky enough to meet and get to know her.
Most importantly, Myrna always maintained her independence and her own identity: she was a prolific and prodigious watercolor artist in her own right, a perpetual seeker of knowledge, an incessant philosopher and an indefatigable skeptic, traits which over the decades inspired all around her. And Myrna was beautiful, with a smile that beamed and a gleam in her eye that could light up a room. As a close family friend said of her death, 'We are so sad to hear of Myrna's passing. She was a wonderful lady, very intelligent and artistic.' She will be dearly missed by all of the many whose lives she touched.
A Memorial Service followed by a Celebration of Myrna's life will be held on Saturday, August 9th at 2:00 pm at Ballard First Lutheran Church, 2006 N.W. 65th Street, Seattle, Washington. In lieu of flowers donations can be made in Myrna's name to the Susan G. Komen Breast Cancer Foundation, www.komen.org. Arrangements entrusted to Wiggen and Sons Funeral Home, 2003 NW 57th Street, Seattle 206 782-4700.
"I can't think of anything more that could have been done at a time when I needed help and care."
Jean P. Seattle
"We received outstanding service, from front desk to funeral director to family service and beyond."
Deborah M. SeaTac
"The staff went out of their way to show us kindness and helped with several additional needs."
Norma N. Auburn
"The staff was prompt, courteous, helpful, and most of all, caring."
Leslie W. Tacoma
"They really care for people and go out of their way to make things easier."
Kathleen S. Federal Way
"The funeral home is a nice, warm and inviting place. Thank you for your kindness in our loss."
Deborah N. Burien
"We are so pleased with Bonney Watson. They were very professional in every way."
Anita H. Normandy Park