Sister Mary Clare Boland, SP
Mar 18, 1930 - Sep 13, 2019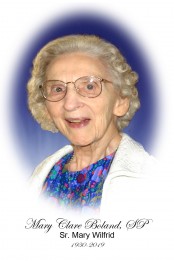 Obituary
MARY CLARE BOLAND, SP
(Sister Mary Wilfrid)
Sister Mary Clare Boland, age 89, a Sister of Providence for 71 years, died September 13, 2019, at St. Joseph Residence, Seattle, WA. Vigil Service: Friday, September 20, 2019, at 6:30 PM, and Funeral Mass: Saturday, September 21, 2019, at 11:00 AM, both at Mount St. Vincent, 4831 35th Ave SW, Seattle, WA. Burial will follow at Calvary Cemetery, Seattle, WA, after Mass and reception. Bonney Watson Funeral Home is in charge of arrangements.
Mary Clare Boland was born March 18, 1930 to Joseph Martin Boland and Ethel Mary Boland (Boning), Seattle, Washington. She was the youngest of five children. Mary Clare entered the Sisters of Providence in June 13, 1947 at Mount St. Vincent, Seattle, Washington, and in January 1948, she became a novice. In July 1949 she professed first vows and received the name Sister Mary Wilfrid. In July 1952 she professed final vows.
Mary Clare graduated in 1947 from Holy Rosary High School in West Seattle. While attending the College of Great Falls in Montana, from 1951-63 Sister Mary Clare took undergraduate studies in Education and Social Studies, and in 1964 she earned a Bachelor of Science degree in Education/Social Studies Philosophy. From 1964-69 she took graduate studies in Education and Anthropology from the University of Washington in Seattle.
In 1977 Sister Mary Clare completed two programs in Pastoral Theology and the Corporate Ministries Graduate Program (CORPUS), both from the Seattle University, along with completion of the Clinical Pastoral Education (CPE) studies in Steilacoom, WA. She received several certifications: Washington State Teachers in Elementary and Junior High, Religious Studies in Pastoral Ministry (RSM), and the National Association of Catholic Chaplains (NACC) by the U.S. Catholic Conference of Bishops. Sr. Mary Clare also held numerous memberships: Association of National Family Life (ANFL), Archdiocesan Adult Education Council (AAEC), National Association of Catholic Chaplains (NACC), National Council of Senior Citizens (NCSC), and Council for Applied Research in the Apostolate (CARA).
Sr. Mary Clare's ministry of 20 years in education was as an elementary/secondary teacher and administrator from 1949-69. In Washington: St. Joseph Academy, Sprague; St. Catherine School, Holy Family School and Sacred Heart School, Seattle; St. Joseph Academy, Yakima, and Providence Heights, Issaquah. In Idaho: St. Alphonsus Academy, Wallace. In Montana: Sacred Heart Academy and St. Francis Xavier School, Missoula; and St. Girard School, Great Falls.
From 1969-1984 she had various ministries as a parish teacher, in pastoral care, and hospital chaplain in Washington: Holy Family School, Providence Hospital and Swedish Medical Center, Seattle; Providence Heights, Issaquah; and St. Peter Hospital, Olympia. In California: St. Joseph Hospital, Burbank. During this time, in 1973 Sr. Mary Clare moved to St. Joseph Residence where she also ministered and cared for the residents. Then from 1985-2007 Sr. Mary Clare held several leadership roles at St. Joseph Residence as local superior, assistant, councilor and director, with a few years as chaplain at Providence Hospital, Seattle.
In January 1999, Sr. Mary Clare travelled to Zurich, Switzerland, to attend the Jungian Symposium at the Carl G. Jung Institute to learn about the fundamentals of analytical psychology and where she experienced the journey of self/soul discovery.
Though Sr. Mary Clare retired in December 2007, her passion was to continue until 2016 volunteering and providing daily spiritual care ministry to the patients, families and staff at Swedish Medical Center – Cherry Hill Campus, in Seattle. Her favorite pastimes were taking walks, doing liturgical art and decorations, sewing, in addition to community involvement and spending cherished time with family, friends and her sisters in community.
Sr. Mary Clare is preceded in death by her parents, brothers, Joseph and John, and sisters, Elinor and Margaret. She is survived by her nieces, and nephews.
Memorial contributions may be made to the Sisters of Providence Retirement Fund, 1801 Lind Avenue SW, #9016, Renton, WA 98057-9016. To view Sister Mary Clare's obituary with her picture and to sign her memory book, please visit the website for Bonney-Watson Funeral Home at www.bonneywatson.com
"I can't think of anything more that could have been done at a time when I needed help and care."
Jean P. Seattle
"We received outstanding service, from front desk to funeral director to family service and beyond."
Deborah M. SeaTac
"The staff went out of their way to show us kindness and helped with several additional needs."
Norma N. Auburn
"The staff was prompt, courteous, helpful, and most of all, caring."
Leslie W. Tacoma
"They really care for people and go out of their way to make things easier."
Kathleen S. Federal Way
"The funeral home is a nice, warm and inviting place. Thank you for your kindness in our loss."
Deborah N. Burien
"We are so pleased with Bonney Watson. They were very professional in every way."
Anita H. Normandy Park