Thomas James Ach
Jan 26, 1938 - Mar 21, 2019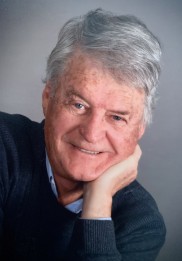 Obituary
Thomas James Ach was born on January 26, 1938 in St. Cloud, Minnesota to Bernard and Emily Ach. He enjoyed a childhood growing up in Minnesota with three brothers (Richard, William, and James) and a sister (Karen). Family times were spent going to the lake in the summer to swim and fish and spending winters hunting and ice fishing. As a young man, Tom enjoyed playing many sports including tennis and basketball. After high school, Tom attended the University of Minnesota. Soon after enrolling, Tom was drafted into the US Army. Tom completed his service with a 2-year tour in Honolulu, HI. Following his time in the Army, Tom returned to the University of Minnesota where he met his wife and life-long partner, Kay, an Iowa farm girl, on a blind date. Married later in 1964, they began their 55-year journey together.
Tom completed his engineering program at the University of Minnesota, earning a Bachelor's degree and then later went on to earn two Master's degrees from George Washington University and Colorado State University. Following the birth of his first daughter (Carrie) in 1967, Tom joined IBM, working as a facility engineer in a newly-opened plant in Manassas, VA. The family moved to Manassas where Tom's second daughter (Susan) was born in 1970.
In 1974, expanding opportunities at IBM created the possibility of a transfer to Boulder, CO. This was welcomed as the family looked forward to not only the career possibilities, but all that Boulder had to offer in the way of outdoor activities, the school system, and wonderful climate and culture. The next 15 years in Boulder were filled with great family times and Tom delighted in spending time and "teaching" his daughters tennis, swimming, skiing, driving, math, and skills involving home maintenance. It was a joy for him to watch his daughters learn and excel. Tom was honored as Father of the Year at the Boulder Country Club, reflecting his positive influence on the tennis and swim programs there.
After his daughters had gone off to college, Tom took a transfer with IBM to Charlotte, NC. Tom and Kay spent a few years there before accepting a transfer with IBM to Seattle, WA in 1991 in order to be close to Tom's mother and two brothers as well as to enjoy all that the Northwest had to offer. Tom retired from IBM shortly after the move; however, he continued to work, taking positions with the University of Washington as a facilities engineer and then taking a series of teaching positions where he found his true calling and passion. Over the next several years and right up until the time of his passing, he taught thousands of students.
He taught many different classes at Central Washington University, Green River Community College, and Highline Community College for several years, sharing his knowledge, skills, and experience in engineering, finance, project management, and statistics. And, with a new model of online education developed at the University of Phoenix in the mid-90s, Tom joined a "founding" faculty for both online classes and on-ground classes. He developed curriculum, taught multiple on-line and on-ground classes (often at the same time) in a variety of subjects including statistics, project management, general business, and other technical subjects. He continued his online teaching contracts even to his final stay in the hospital, which drew much interest and attention from the hospital staff.
Two grandsons came along in 1996 (Ryan) and 1997 (Ben). Tom enjoyed many years with his two grandsons growing up in the Federal Way (WA) area. He spent time and taught them, like he taught his daughters, swimming, tennis, enjoying nature walks, math, how to drive, how to fish, and other things. He spent countless hours coaching middle school math teams for both his grandsons and their class-mates, teaching them after school and taking them to area math competitions. He made math fun, while being instructive. His grandson Ryan graduated college with a Bachelor's in Math and Computer Science and now has gone on to graduate school in a program focused on advanced mathematics and data analysis. His grandson Ben is excelling in his college pre-medicine program. Both his grandsons and many of their classmates on Tom's math teams, have excelled in math, which has been critical for their future.
Tom and Kay enjoyed many years of active travel in the past 10 years, including several river cruises and trips to European cities in England, Germany, Spain, France, and Italy. They took yearly trips to visit family and friends in Iowa and Minnesota and they spent time visiting their daughter Susan in Denver, taking trips to Santa Clara to visit their grandson Ryan in college, and travelling throughout the Northwest to watch their grandson Ben play baseball. In March, he was able to watch Ben's games in Lacey, WA with great pride and just a week before he passed away.
Tom thoroughly enjoyed the hummingbirds and squirrels he fed in his back yard and enjoyed taking care of the group of orchids he maintained in his office. He also enjoyed searching for his Bavarian grandparents and doing genealogy research, which included several trips to Utah and Germany.
Never being a smoker, Tom received a diagnosis of stage 4 non-small cell lung cancer in January 2018. He had a good initial response to the medication and was able to travel over the past 15 months with trips to the French Riviera, Venice, Canada, and Hawaii and a river cruise on the Rhine with his wife and friends.
For Tom, it was 15 months of living each day to the fullest with gratitude. He was very grateful for his PUMC Church family that shared friendships, support, and prayers lifted during challenging times.
During the month before his passing, he began to battle fluid on his lungs. He had a severe stroke on March 18, which led to his passing on Thursday, March 21 at St. Francis Hospital in Federal Way, WA.
He was a wonderful husband, father, and grandfather and will be greatly missed by all who knew and loved him.
He is survived by his wife of 55 years (Kay); daughters Carrie and Susan; grandsons Ryan and Ben; two brothers (Richard and William (Doris)); a sister (Karen); and many nieces and nephews. He is preceded in death by his father Bernard, mother Emily, and brother Jim.
A memorial service will be held on Thursday, May 16 at 2 pm at Puyallup United Methodist Church (1919 W Pioneer Ave. Puyallup, WA 98371).
Online condolences and tributes may be shared there.
In lieu of flowers, please send donations in the name of Thomas Ach to the Puyallup United Methodist Church (as above) or to a charity of your choice.
"I can't think of anything more that could have been done at a time when I needed help and care."
Jean P. Seattle
"We received outstanding service, from front desk to funeral director to family service and beyond."
Deborah M. SeaTac
"The staff went out of their way to show us kindness and helped with several additional needs."
Norma N. Auburn
"The staff was prompt, courteous, helpful, and most of all, caring."
Leslie W. Tacoma
"They really care for people and go out of their way to make things easier."
Kathleen S. Federal Way
"The funeral home is a nice, warm and inviting place. Thank you for your kindness in our loss."
Deborah N. Burien
"We are so pleased with Bonney Watson. They were very professional in every way."
Anita H. Normandy Park