Aida Lou Ringoen
December 17, 1931 - July 25, 2022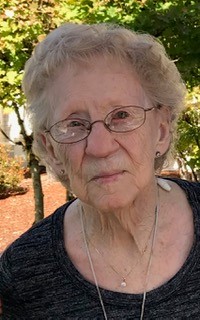 Obituary
Aida Lou, daughter of Sigurd and Hilda Stubsjoen, was born on December 17, 1931 in Fargo, ND. She was the second oldest of five children. She grew up in Wiley City (near Yakima) until her father moved the family to Seattle because he got a job as a machinist at Boeing building military airplanes for WWII.  Aida attended Highline High School in Burien, where she met Howard Ringoen in chemistry class.  Howard got drafted to go to Germany as a second lieutenant during the occupation following WWII.  Aida joined him and they were married in February 1955.  Their first daughter Kathleen was born a year later.  Kathleen lived about six weeks and died of crib death.  At that time, Aida said she was going to have five more children… and they did.  Howard was born in 1957, Polly in 1958, Mike in 1960, Kristi in 1962, and Sonja in 1963. 
The expanding family moved to Normandy Park in 1959. Aida was a stay at home mom. Howard and Aida loved to bowl and play bridge together. In 1969 they joined Rainier Golf and Country Club, and she learned to play golf. Aida was an active member of the Women's League and score keeper for the many rounds of Gin Rummy and Bridge. Howard and Aida celebrated their 40th wedding anniversary in Reno. Afterwards, Howard suddenly passed away. Aida moved into a condo in Kent, where she lived independently until 2017.
Aida loved to use her hands for sewing, knitting, crocheting, painting, crafting etc. She had loads of patience and was a perfectionist. She enjoyed playing the slot machines at the local casinos. Rainier Golf and Country Club became her second home after Howard died. The women's club took very good care of her. She was even asked to make "magic dollar bill holders" for an event. Playing bridge, doing crossword puzzles and Suduko kept her mind sharp until the dementia set in and her eye sight started to fail. She spent the last five years of her life in assisted living facilities in Issaquah and near Shelton, WA. She died peacefully in her bed on July 25, 2022.
She is survived by her 5 children, 11 grandchildren, 4 great grandchildren, and her sister Shirley Roush. She is preceded in death by her husband; daughter Kathleen; her mother and father; sisters Beverly Pound and Kathleen Stubsjoen; brother Sigurd Stubsjoen, and many friends and loved ones.
In Lieu of flowers, donations may be made to The Alzheimer's Association at alz.org or 1-800-272-3900