Angelina "Babe" Yellam
January 17, 1924 - February 25, 2021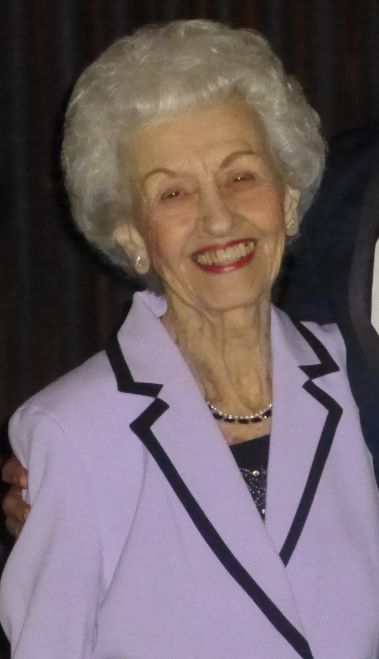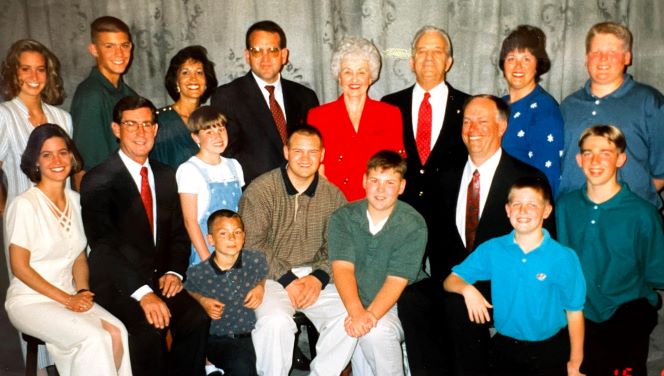 Obituary
Babe died on Thursday, February 25, at Hospice Home in Tacoma after sustaining a fracture to her neck. Before that she lived independently in her three-story home in Burien. She was 97. She was born in South Park on January 17, 1924, to Italian immigrants, Felix and Antoinetta Vacca where she joined siblings Rosie and Angelo. When she was two, the family moved to Sunnydale where her younger brother Tony was born.
Babe went to Sunnydale Grade School then on to Highline High School. She graduated in 1942; she was a good athlete–tumbling was her specialty. She was a worker from a very early age. She worked at home and sold vegetables from the family farm, which later became Vacca's Pumpkin Patch, well known for pumpkins at Halloween and Christmas trees. That experience proved useful when in the early years of their marriage, she worked right alongside her husband at Yellam's Fruits and Vegetables Stand in Holly Park.
Babe met her husband, Frank Yellam, while in high school. He went to Cleveland. They re-connected at a dance at Angle Lake when dances were a nickel. They corresponded during World War II and got engaged. They were married on June 1, 1946, at St. Francis Church, which they attended their whole lives. They were happily married for 62 years until Frank's passing in 2007. They raised three children, Patty (Barber), Donna (Hansen), and Frank Jr.
They lived on Des Moines Way next to her father's truck farm for most of their lives. Their children, nieces, nephews and many friends enjoyed endless summer days swimming in Lora Lake where cookies and Kool Aid were plentiful. When Sea-Tac's third runway took their beautiful home, they moved to their 3-story home about 22 years ago overlooking Highway 509 and Fred Meyer. There was always something for her to look at.
Babe's whole life was centered around her family, putting their needs always above her own and making them comfortable. She kept an immaculate house, mowed her own HUGE yard, and washed her car often. She NEVER sat down. Her cousin nicknamed her Miss Schedule. She had a routine and followed it faithfully. She ate organic before it was popular. She would pick veggies from her father's garden, right next to her home, and within a half hour she would serve them. She said she was healthy because she never smoked, drank, or colored her hair. She was up every day by at least 6 am, had her bed perfectly made, was dressed, made coffee, and cut out the Seattle Times word puzzle. It was her way or no way.
She and Frank enjoyed bowling with the Sons of Italy, golfing together, poker parties with the gang, and dances. She always looked so beautiful in her taffeta dresses. She got her hair done every Saturday and was constantly checking to see if she had her red lipstick on. She said people recognized her in Burien because her hairdo had not changed for 60 years—except that it had gone from black to gray. She worked at Olympic Bowl, across from their Lora Lake home, for about 20 years and was known as the friendly waitress with the beautiful smile who could run circles around everyone. The kitchen was her home—no matter whose it was.
Babe was an excellent cook well renowned for her tossed green salad with Italian dressing, pizzelles, snickerdoodles, applesauce, pecan pie, fried chicken, and spaghetti with tuna. You could not enter her home without being offered cookies and coffee. She also had an amazing green thumb. She never killed a plant and kept fresh flowers longer by re-arranging them every day! She helped her husband and son with the books for Frankie Boy Produce Company. Frankies Bistro even got a taste of her organizational skills when she would fold napkins for the nightly meals. No one could fold as fast or as neat or take her job more seriously.
The Yellam family enjoyed long weekends to Salmon la Sac with the Scoccolos and Copalis Beach and Lake Meridian with cousins. In later years, Frank and Babe enjoyed gambling and loved to drive to California or Reno and Las Vegas. Frank's favorite city was San Francisco, home of the great Joe DiMaggio, so they would often re-visit the place of their honeymoon. In later years, they enjoyed Emerald Queen and Muckelshoot casinos.
Babe and Frank had ten grandchildren. Babe was right there to help with either food or how to diaper a newborn. There are pictures of her with every one of them as babies. They delighted in her and she in them. The grandkids marveled at her athletic ability. As her great grandchildren started coming, she was thrilled to meet them. She was elated over her namesake, Mia Babe Yellam and that Rylie Marie shared her daughter Donna's middle name. In the last week of her life, she learned she had her 21st great grandchild, Jude Boyer Barber–the circle of life in the Yellam family. God's timing is amazing!
Babe was a survivor.  She beat pancreatic cancer 25 years ago.  Then mouth cancer a couple years ago where her bottom teeth were removed.  She never complained of the pain from that, but that it was harder to get her red lipstick on her bottom lip.  She had a very high pain tolerance—she NEVER had Novocain when she went to the dentist.  The biggest challenge she faced in the later years was her loss of hearing.  It took her out of so many conversations and even TV and phone calls left her wanting.  She was independent to the end—pushing a walker out of her way. "I'm fine.  I don't need it."   Ultimately, it was the falls that got her.  Her legs were just so weak.
She was an amazing role model to all she knew with her work ethic, treating people with respect, and doing your fair share in any task you are given. She went above and beyond for her family and attended Mass at St. Francis every Sunday for over 90 years. The third row had her and Frank's name on it. As her husband would say, "It is the end of an era." She outlived pretty much everyone—most recently her beloved daughter Donna Marie in October, which took a big toll on her.
Babe was preceded in death by her husband Frank Yellam, daughter Donna Hansen, sister, Rose Kellington (Squire), brother Angelo Vacca (Irene), brother Tony Vacca (Betty). She is survived by her daughter Patty Barber (Keith), son Frank Yellam Jr., son-in-law Gary, ten adoring grandchildren and their spouses, and 21 great grandchildren. Babe was a fixture in Burien for over 95 years. She lit up a room with her beautiful smile and LOVED everyone she met. She will be missed forever but her legacy will live on in all who knew her. May she rest in peace. Well done, good and faithful servant.
My Mother's Garden
My mother kept a garden
A garden of the heart;
She planted all the good things,
That gave my life its start.

She turned me to the sunshine,
And encouraged me to dream:
Fostering and nurturing
The seeds of self-esteem.

And when the winds and rains came,
She protected me enough;
But not too much, she knew I'd need
To stand up strong and tough.

Her constant good example,
Always taught me right from wrong;
Markers for my pathway
To last my whole life long.

I am my Mother's garden,
I am her legacy.
And I hope today she feels the love,
Reflected back from me.
         Author Unknown
"I can't think of anything more that could have been done at a time when I needed help and care."
Jean P. Seattle
"We received outstanding service, from front desk to funeral director to family service and beyond."
Deborah M. SeaTac
"The staff went out of their way to show us kindness and helped with several additional needs."
Norma N. Auburn
"The staff was prompt, courteous, helpful, and most of all, caring."
Leslie W. Tacoma
"They really care for people and go out of their way to make things easier."
Kathleen S. Federal Way
"The funeral home is a nice, warm and inviting place. Thank you for your kindness in our loss."
Deborah N. Burien
"We are so pleased with Bonney Watson. They were very professional in every way."
Anita H. Normandy Park