Barbara May Jones
Mar 23, 1930 - Feb 7, 2020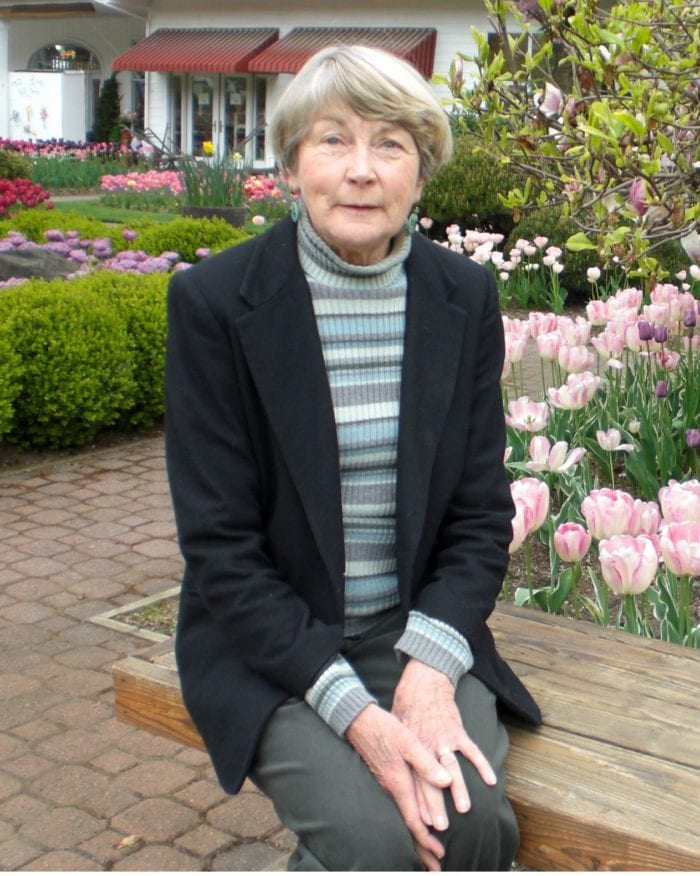 Obituary
Barbara May Nordquist was born in Seattle on March 23, 1930 and died at Arcadian Hills Adult Family Home in Des Moines, WA on February 7, 2020 at age 89. Barbara grew up in the community of Foster, which is now part of Tukwila, WA with her twin sister Beverly and older sister Rose Marie. Barbara enjoyed playing outside, helping her dad deliver milk during the snowy days when school was closed, playing with her cousins and enjoyed camping trips with the Girl Scouts. Since her father delivered milk 7 days a week, she and her sisters would help by mowing the lawn and doing other yard chores. In high school she enjoyed singing with her sister Beverly. The two of them even had a couple records made. During the summer months, her mother would take the girls to the Kent Valley to pick fruit and vegetables. Barb also worked at the nearby Foster Golf Links restaurant.
Barbara graduated from Foster High School in 1948 and shortly after went to work with her sisters for the phone company in Seattle. For recreation she and her sisters joined the Seattle Mountaineers, with whom they went on hikes, camping trips and attended folk dances. It was there she met future husband, Harry.
Barbara and Harry were wed on June 22, 1952 settling first in Burien and later in Normandy Park where they raised two sons and a daughter. As a family, they spent many weekends at Barbara's parents' cabin on Lake Tapps – enjoying time with relatives, swimming, water skiing and watching Lawrence Welk on Saturday nights. Family vacations were usually long camping trips in Oregon or Washington. Barb made good use of road time by reading to the kids historical stories about the areas they were driving through. Another time when at the ocean beach, she had the kids fill the station wagon floor boards with flat rocks for her patio garden at their home in Normandy Park.
Barbara and Harry were active members at Lake Burien Presbyterian Church where they sang in the choir and served as adult leaders in the Youth Group. They were also members of the "Anchor Club," enjoying fellowship and close friendships.
Barbara was an avid gardener and enjoyed landscaping and caring for their large, acre-plus, yard in Normandy Park. In later years, after the sons' labor was not as easy to come by, both she and Harry would each man a power mower and cut the large front lawn together in parade style. Also during this time period, Barbara attended South Seattle Community College and obtained a Floral Design Certificate, after which she worked at the George Town Florist Shop.
Barbara was also very artistic and enjoyed taking watercolor painting classes and painting with her friends. Barbara exemplified the "cup half-filled" mentality. She was almost always happy and positive. With this and her witty humor, she was always a joy to be with.
Barbara will be lovingly remembered by her son Don and his wife Lisa, daughter Carol and her husband George Conklin, daughter-in-law Sue, sister-in-law Patrica Jones; her six grandchildren – Jason, Ryan, Brandon, Michael, Tyler and Brent and her ten great grandchildren – Alia, Gavin, Hudson, Keller, Laine, Merrick, Hamish, Sawyer, Paxton and Rachel. She was preceded in death by Harry, brother-in-law Charles Matson, Rose Marie, brother-in-law Robert Pardis, Beverly, son Roger and brother-in-law Leonard Jones.
Friends and family are welcome to attend a memorial service and reception to be held at 11:00am on Saturday, March 28 at Lake Burien Presbyterian Church – 15003 14th Ave SW, Burien, WA 98166.
"I can't think of anything more that could have been done at a time when I needed help and care."
Jean P. Seattle
"We received outstanding service, from front desk to funeral director to family service and beyond."
Deborah M. SeaTac
"The staff went out of their way to show us kindness and helped with several additional needs."
Norma N. Auburn
"The staff was prompt, courteous, helpful, and most of all, caring."
Leslie W. Tacoma
"They really care for people and go out of their way to make things easier."
Kathleen S. Federal Way
"The funeral home is a nice, warm and inviting place. Thank you for your kindness in our loss."
Deborah N. Burien
"We are so pleased with Bonney Watson. They were very professional in every way."
Anita H. Normandy Park