Bonifacia Casil Reniedo
May 5, 1923 - Dec 26, 2019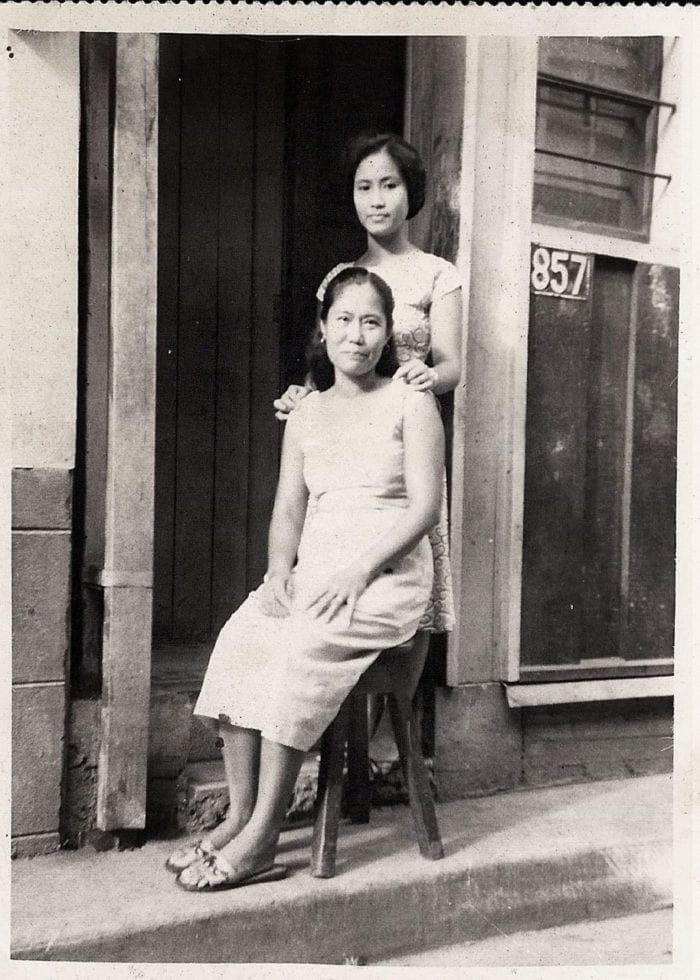 Obituary
The Life of Bonifacia Reniedo
Nanay Paciang was born Bonifacia Cantorna Casil on May 5th, 1923 in Binalonan, Pangasinan. Nanay's Father was Marcelo Casil
and her Mother was Ciriaca Cantorna.  She lived with her parents in Limmansangan Binalonan, Pangasinan.
Amang and Nanay met each other in San Jose, San Nicolas Pangasinan. During her teens she used to go visit her Aunt Hilaria Castillo during mongo harvest season.  At the time she was there, she met the nephew of Hilaria's husband Simeon.  During that pre war time they used carabao and cariton for transportation and took many hours or almost a day for them to travel a 35 kilometer distance to go visit each other.  Soon after she met the very handsome, very taraki Florentino Reniedo she soon married him in April 1941 at their young age of 18 in Binalonan. After their wedding they moved to San Jose, San Nicolas, Pangasinan and resided there.  During their early marriage they had two kids, my Uncle Dominador, who sadly passed away as a sick infant during war time occupation and invasion. My mother, Isabelita, was born in August 1942 and raised as an only child.  My grandmother harvested crops and rice to earn a humble living. In 1946, Amang left to Hawaii to work at the Dole pineapple plantation to provide money for his family to send home. Hawaii became a US Territory. Soon after, with his cousin Severino Rollolazo and family he moved to Seattle.  When my mom was 18 she graduated nursing school and on her nursing visa she and Nanay immigrated to the United States to join my grandfather. This led her to follow my mom's nursing career and live in some interesting places like Philadelphia, Pennsylvania.  It was the year 1966.  After 20 years apart, that is TWENTY long years not living together, let alone being able to see each other.  The only communication were letters via airmail.  It was in August 1966 with much anticipation, Amang and Nanay were finally rejoined.
When they arrived in Seattle. They shared a small apartment on Yesler, which still stands, with several relatives including the family of Grandma Ikiang and Grampa Ebren (Severino & Timotea Rollolazo).  Grandma would chuckle and say they were roommates.  Amang and Nanay also lived in our childhood home on Willow Street before purchasing their house on Frontenac. This was her home.  This is where Nanay was the happiest. She had the biggest most beautiful landscaped and manicured yard with roses, plants, many fruit trees and lush green grass front and  back.  It also had the longest driveway that could fit a great number of friends and relatives who would love to visit and celebrate with her. She welcomed everyone and was open-hearted. She gleefully hosted a number of holidays, weekend get togethers, and Glenn and I's birthdays. She thrived in being socially active.  Her and Amang were involved in Grand Filipino Oriente Brotherhood and Sisterhood organization at the "Big House"  and participated in events and dances at the Filipino Community.  After Amang passed, she would hang out with her buddies.  She would hop on the bus, go meet up with friends for food bank or shopping in Chinatown.  She would travel and go to Vegas or on cruises with accomplices like Auntie Meling, Auntie Pacing and the late Grandpa Johnny & Auntie Skitter.
Known as Bonnie to her co-workers. She worked in several places including housekeeping at Bush Hotel, industrial seamstress at Daw, and retired from housekeeping at Swedish First Hill in the early 1990s.
The basics of Nanay loved watching TV, especially Wheel of Fortune, Jeopardy, Dancing with the Stars.  The old original vintage shows like Swat, FBI, Hawaii Five-O and Million Dollar Man were a primetime regular. Lawrence Welk was like a special event so you better hurry back after the Rose Milk and Geritol commercials cause Ani Cani is next. She cheered for the Seattle Supersonics playing on TV and egged on her least favorite boxer and always rooted for Bruce Lee, Sammo, Jackie Chan and Walker Texas Ranger. She loved Bonanza. Her favorite McDonald's meal was her "fishburgerrr," her favorite drink 7Up, Cella Wine, she longed for Coopenhagen long cut muscada. She loved bananas and Nilla Wafers. She will send you out to get Kentucky for her.  Fried tilapia, hers was the best, boiled smelly smelt paksiw, salmon head sinigang, pinakbet, lauya, pansit, dinardaraan.  All her favorites. She knew a little bit of eskrima so she could hold her own.  Her favorite color was red.
Nanay loved the Lord. She would read out of her vintage Ilocano Bible out loud and pray the rosary in Ilocano. She was a woman of strong faith.
Nanay loved Amang. When you see their pictures together her smile is so bright or she was laughing, but Amang was a funny man.
Nanay loved taking care of us.  Whether it was Glenn and I when we were little or taking care of my own kids. She had the nurturing quality about her. She knew how to arrange the blankets on the bed just so it would be extra comfy.  She used her spiritual foresight  to protect the baby Aly from spirits who would startle her awake. She had the unbreakable bond with my daughter Aly. They would have silly bedtime moments before they fell asleep.  It took Aly until her teens to sleep in her own room.  Nanay knew exactly how to scratch C'Ray's back just right to make him relax to fall asleep. He would lay next to her so she could cudcud.  When they were little tikes she would cook them food and make sure they were fed, clean, and well napped. She made sure everyone was fed including C'Rays friends when he was in school. This was continual care. She had phenomenal physical endurance and stamina. She devoted decades of her years in humbled sacrifice for us. I have never showed her enough gratitude or expressed enough of my appreciation to her for always being there for me and the kids. Only in recent years, I finally started understanding her and all that she endured. I love her more than she will truly ever know.
One particular morning I heard the baking pans clanging that it was like nails scratching against a chalkboard painful   She would wake up so early, but this time it was before 5:00 in the morning, before a work day, just so she could prepare some Tambo tambong to bring to a party after work. That shows her dedication and devotion to tradition.  It would be made with love from her own two hands. Other times she would make kakanen.  But her most beloved and requested dish was her infamous vinobodan. Hers was the best, no one could compare.
Nanay is the 2nd among 4 children. There were 2 boys and 2 girls.The eldest sibling Alejo died in WWII, then next came Nanay, next after was Francisco "Ecco, " and the youngest was her sister Valeriana "Pacing." Nanay outlived all her siblings. She leaves behind one niece, Marivic, along with her nephews who are Marivic's brothers Alfredo, Loreto, Arturo, Ernesto, and Francisco Jr. and Alejo's son Esto.
Nanay Paciang is preceded in death by her son Dominador and her husband Florentino Reniedo. She is survived by her daughter Isabelita Rollolazo; grandchildren Glenn Rollolazo (Dana), Clarisse Rollolazo; and her 4 great grandchildren, Clifford Ray "C'Ray" Pool III, Alyssandra Rollolazo, Jordan Desi Rollolazo, and Bailey Rollolazo. Nanay slipped away from this physical world on the evening of December 26th, 2019. Now we prepare to lay her to final rest. We join in solidarity to always remember the sweetest moments of Bonifacia Reniedo. Nanay, you are loved eternally.
"I can't think of anything more that could have been done at a time when I needed help and care."
Jean P. Seattle
"We received outstanding service, from front desk to funeral director to family service and beyond."
Deborah M. SeaTac
"The staff went out of their way to show us kindness and helped with several additional needs."
Norma N. Auburn
"The staff was prompt, courteous, helpful, and most of all, caring."
Leslie W. Tacoma
"They really care for people and go out of their way to make things easier."
Kathleen S. Federal Way
"The funeral home is a nice, warm and inviting place. Thank you for your kindness in our loss."
Deborah N. Burien
"We are so pleased with Bonney Watson. They were very professional in every way."
Anita H. Normandy Park