Celestino Bernabe Gallegos
October 23, 1918 - February 6, 1957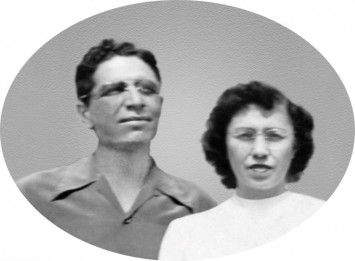 Obituary
Celestino Bernabe Gallegos
Date of Birth:
October 23, 1918
Amalia, New Mexico
Date of Death:
February 6, 1957
Adams County, Colorado
Celestino Bernabe Gallegos was a born in Amalia, New Mexico, on October 23, 1918. He was a descendant of one of the earliest Hispanic pioneer families that settled in Northern New Mexico and Southern Colorado in 1860. As a young man he managed his father's rural mercantile store in Amalia.
In 1939 he married Epimenia (Eppie) Maes and together they raised five children: James, Arthur, Priscilla, Linda and Sidney. Celestino was a dedicated father to his family and was known for his intelligence, work ethic, fairness, meticulous dress and genteel manner.
Together with his wife and children he owned and operated a large 1200 acre ranch in Ventero in Southern Colorado where he raised crops, cattle, horses, hogs, sheep and wild boars. He also owned a successful family business, La Havana Club, in San Pedro, Colorado, and was one of the founding fathers of the Rio Costilla Cooperative Livestock Association (RCCLA) in north central New Mexico. His two sons, Arthur and Sidney, and his grandson Celestino A. Gallegos continue as members of the RCCLA.
On February 6, 1957 he was transporting animal stock to market near Denver when he had a tragic truck accident and lost his life at the age of 38. He was buried at Mt. Olivet Cemetery in Denver, Colorado. He is survived by his children, Arthur, Linda and Sidney, 10 grandchildren, 20 great grandchildren and 12 great-great grandchildren. Departed descendants include children James Gallegos, Priscilla Duran and grandchildren Ronald and Dennis Gallegos.
Recently his children living in Washington decided to disinter his remains and have him entombed next to his loving wife, Eppie, at Gethsemane Cemetery in Federal Way, Washington.
Mass will be celebrated at 10:30 A.M. at the Gethsemane Cemetery chapel followed by entombment at the family crypt site at Gethsemane. A reception for family and friends will follow.