Charlotte Ann Berg
December 20, 1947 - July 5, 2022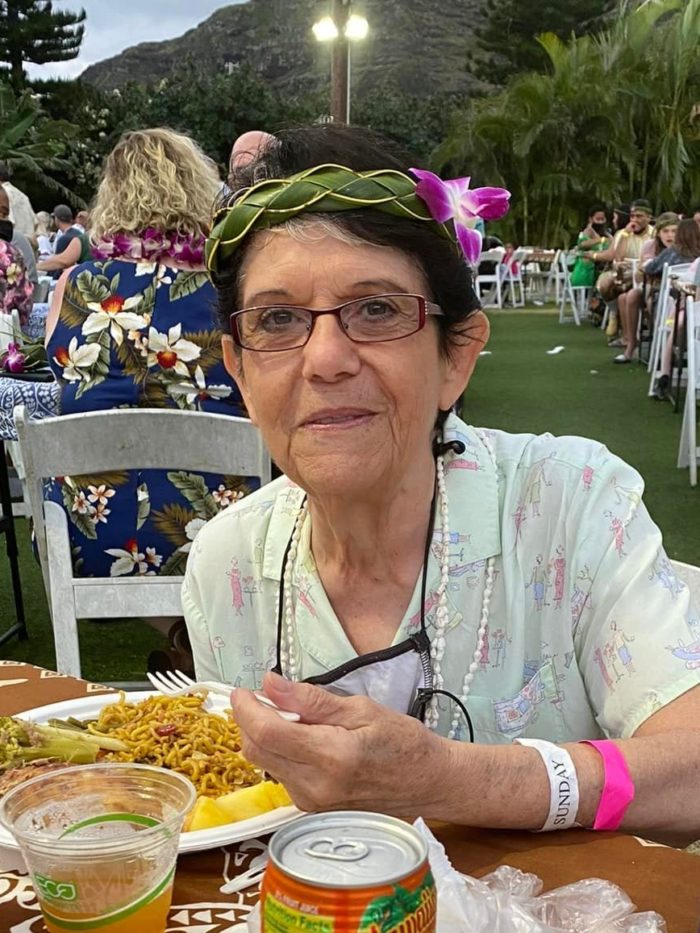 Obituary
With heavy hearts we want to share that Charlotte Ann Berg passed away on Tuesday, July 5, 2022, at St Joseph's Hospital in Tacoma, Washington.
Charlotte was born on December 20, 1947 in Rochester, Minnesota. Charlotte was the sixth of eight children born to Theodore Gus Berg and Katherine Louise Vanderburg. She is survived by three of her brothers: Jerry Berg, Ronald Berg, and Michael Berg; and one sister: Judy Bacon.
In 1965, Charlotte graduated from Byron High School, located in Byron, Minnesota, and within weeks after graduation moved with her parents and her younger brother to Columbia City, Oregon. In June of 1966, while living in nearby St. Helens, Oregon, Charlotte met Donald Berg, who at the time was living in Portland, Oregon. The fact that they both had the same last name fascinated him, and thus began a whirlwind relationship. They began dating in July of 1966, became engaged in August of 1966, and were married in St. Helens on November 19, 1966.
In October of 1968, Charlotte and her husband moved to Burien, Washington, and in 1969 began their family. Their daughter, Rhonda, was born in 1969, and their son, Kevin, was born in 1974.
In 1975, their son Kevin was diagnosed with Cerebral Palsy, and thus began a lifelong crusade, not just for her son, but for many others who needed an advocate. During the next few years, while her son was in conventional therapy, Charlotte became very active in a parent's support group. Later, when she and her husband were doing a home therapy program, she was active in helping to get other parents and children into the same program.
As a result of this program, Charlotte, her husband, and both of their children came to know the Lord Jesus Christ.
For a number of years after that, Charlotte ran an after school daycare in her and her husband's home. Through this, she touched the lives of many children and their parents.
In one case, the single parent of one of the many children she took care of was going into drug treatment.  The young girl needed a place to stay while her mother was in treatment, so Charlotte took her into her home.  After the young girl's mother got out of drug treatment, she got into a trade school.  Charlotte then invited the mother to stay in the home with her daughter while she was in the trade school.  After the child was older and no longer needed daycare, she and her mother would bring flowers to Charlotte every Christmas.  This lady and her daughter were among many who were taken into the Berg's home when they needed help.
In 2013, Charlotte began volunteering at Transform Burien Community Outreach, helping the homeless and the near-homeless. It wasn't long and she was put in charge of the clothing bank. While she volunteered there, she showed a love for the homeless that was inspiring. One year she got a telephone call at about 9:00pm on Christmas Eve that one of the homeless men had a mishap and desperately needed clean clothing. Charlotte and her husband met the man at the clothing bank at about 10:00pm and got him all of the clean clothes he needed.
Charlotte was not very tall, but she was not afraid of anything. One day at the outreach, two rather large men got into an argument in the dining room. One of the men began throwing chairs around the room. Most of the male volunteers stood there with a shocked look on their faces and did nothing. Charlotte walked in, stepped directly between the two men and told them in no uncertain terms, 'Knock it off…both of you!" They both instantly stopped their argument and apologized to Charlotte for their behavior.
In addition to her husband Don, Charlotte is survived by her two children and their spouses: Rhonda Jones (Greg) and Kevin Berg (Melinda); grandchildren: Gabriella Berg, Isaiah Jones, Cameo Jones, Courtney Jones, and Zachary Conley.