Chuck Low
Feb 12, 1923 - Apr 12, 2020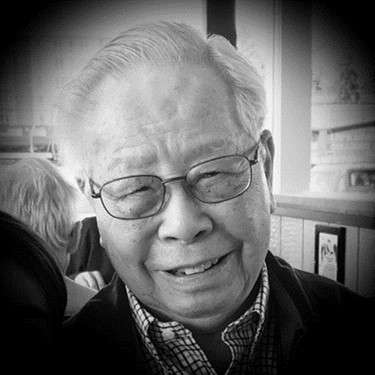 Obituary
Chuck Low passed away on April 12, 2020 at the age of 97 in Seattle, Washington. He was born in Gok Ling Village in Guangdong, China on February 12, 1923 (Lunar calendar date November 5, 1921). He was predeceased by his beloved wife, Nan Low of Seattle.
Upon arrival in the US, Chuck lived in Los Angeles, California at his family's business, the Sun Wing Wo Company in the Garnier Building (now the Chinese American Museum). He served as an aircraft mechanic in the 555th Air Service Squadron of the 14th Air Service Group (US Army Air Force) in the China Burma India Theater (CBI) from 1943-1946 during World War II. He will be posthumously awarded the Congressional Gold Medal this summer in recognition of his service as a Chinese American World War II Veteran.
In 1950, Chuck moved to New York City after being invited by his friend Ernest Low. During this time, he got to know a lot of Golden Age movie stars, including Esther Williams, Bing Crosby, Mickey Rooney and Natalie Wood (whom he carded!) as they frequented the restaurants he worked at, the Singapore and Chinatown Charlie's. On December 7, 1958, he was sworn in as a US citizen; shortly afterwards, he moved back to the West Coast where he would eventually settle in Seattle, handpicked as the bar manager at Victor Rosellini's nationally acclaimed Rosellini's Other Place restaurant. He also served as a trustee as an active member of Chinese Baptist Church in Seattle.
Chuck had a wonderful, full life and will be missed for his generosity, mischievous sense of humor and wonderful stories. He also had a passion for classical music and would share it by blasting Beethoven on his sound system as he walked laps around his house for exercise later in life. He was very much loved by his family and friends and his presence will be missed; they are comforted in the knowledge that he was at peace being called home by his heavenly Father.
Chuck is survived by daughters Nora (Philip Lu) of Seattle, Washington and Vivian (David Fisher) of Concord, Massachusetts; grandchildren Becky (Andy Haldeman), Nate (Stephanie) and Matt (Kylene) Lu; Emma, Sam and Sophie Fisher; his adored great-grandchildren Maia, Ethan, and Lauren Haldeman, Sonoma, Brooklyn, and Ronin Lu, and Jae Ella and Hendrix Lu; his younger brother Allen Lieu (Wing) and many nieces and nephews.
A memorial service will be scheduled at a later date after restrictions around COVID-19 have been lifted.
"I can't think of anything more that could have been done at a time when I needed help and care."
Jean P. Seattle
"We received outstanding service, from front desk to funeral director to family service and beyond."
Deborah M. SeaTac
"The staff went out of their way to show us kindness and helped with several additional needs."
Norma N. Auburn
"The staff was prompt, courteous, helpful, and most of all, caring."
Leslie W. Tacoma
"They really care for people and go out of their way to make things easier."
Kathleen S. Federal Way
"The funeral home is a nice, warm and inviting place. Thank you for your kindness in our loss."
Deborah N. Burien
"We are so pleased with Bonney Watson. They were very professional in every way."
Anita H. Normandy Park