Colleen Lou (Lucy) Trenary
1931 - 2019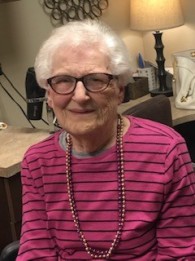 Obituary
Colleen Lou Trenary passed away peacefully on April 28, 2019, at 87 years of age. Colleen was born, Colleen Lou Hood, in Braman, Oklahoma, on October 17, 1931, to Laura "Orr" Hood and Robert Sterling Hood. She was the youngest of three girls.
Colleen was raised in the town of Braman, Oklahoma, on farm land outside of town, where her parents were wheat farmers and owned many acres of land. Farm life provided many stories over the years for Colleen and some of those she would share with her own family. Much of the land was eventually sold to a relative who contunued to work the land. When Colleen's Dad passed away, the farm was sold and her Mom moved in to town. These are the memories some of Colleen's own family recall.
Colleen was raised in, and graduated from Braman High School in 1947. In that time, Colleen met the man who would become her husband, Leon Ray Trenary Jr. After Leon served our country in the United States Air Force, he and Colleen were married in October, 1950. They settled in Great Bend, Kansas, where Leon worked for Haliburton and Colleen took secretarial jobs. Great Bend was where they started their family. The job at Haliburton took them to Wichita where Leon secured a job with the Boeing Airplane Company. The family expanded in Wichita and soon there was another change ahead with a move, when Boeing added jobs to the 727 program in Seattle. The family of five, loaded up and relocated to Seattle, where they would make a home, expand their family and remain until this day. Colleen went to work for Boeing where she retired after 33 years of service.
Colleen had a love of family, of tradition, and wished she could have been closer to family back in Oklahoma. She loved throwing any kind of party, whether it be a birthday, graduation, anniversay, or holiday event. Colleen was a woman of faith having been raised in the Braman Church of Christ and then going on to be one of 13 families that were founding members of the Federal Way Church of Christ.
Colleen was preceeded in death by her husband, Leon Ray Trenary Jr., and her son, Marklin Ray Trenary. She is survived by children, Terri, Becky (David) , Beverly (Mike), Curtis (Kandie) and 7 grandchildren; Deann, Rick, Jesse, Kyle, Sam, Sean and Cece.
A memorial service will be held, Wednesday, May 8, 2019, at 11:00am at Bonney Watson Chapel at 1535 SW Dash Point Rd, Federal Way, WA 98023. Interment at Tahoma National Cemetary along side her husband Leon.
Please sign the Guest Book at BonneyWatson.com
"I can't think of anything more that could have been done at a time when I needed help and care."
Jean P. Seattle
"We received outstanding service, from front desk to funeral director to family service and beyond."
Deborah M. SeaTac
"The staff went out of their way to show us kindness and helped with several additional needs."
Norma N. Auburn
"The staff was prompt, courteous, helpful, and most of all, caring."
Leslie W. Tacoma
"They really care for people and go out of their way to make things easier."
Kathleen S. Federal Way
"The funeral home is a nice, warm and inviting place. Thank you for your kindness in our loss."
Deborah N. Burien
"We are so pleased with Bonney Watson. They were very professional in every way."
Anita H. Normandy Park