Edel Patio SANCHEZ
May 24, 1956 - March 16, 2000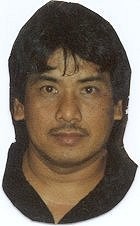 Obituary
Edel "Dhel" Sanchez was born on May 24, 1956 at Pampanga, Philippines to Lourdes and Brigido Sanchez. He pased away at his home in Seattle, Washington on March 16, 2000.
He migrated in to the U.S. on December 14, 1999. He has been married for 18 years to Maria Luzminda Liam Sanchez Malou and were blessed with 3 children namely: Edellou Lady17, Louie Edelson 13, and Ethel Lougie 11. He being the second eldest and eldest among his brothers was not only a brother but also a father as well. Survived by sisters: Alma and Nida, brothers: Abel, Ador, Nick and Nile. Parents-in-law Benjamin and Jackie Liam of Seattle, brothers-in-law Andy, Christopher, Benjie, Paul, Cresencio Cris, Susan, Lourdes and Manny.
He left us with his legacy of love, a loving and responsible father to his children and affectionate husband to his wife and a friend as well. A man with a great sense of humor. He was an inspiration to all and because of his attitude and personality he will not only live in our minds, but in our hearts forever and to all those who knew him.
"I can't think of anything more that could have been done at a time when I needed help and care."
Jean P. Seattle
"We received outstanding service, from front desk to funeral director to family service and beyond."
Deborah M. SeaTac
"The staff went out of their way to show us kindness and helped with several additional needs."
Norma N. Auburn
"The staff was prompt, courteous, helpful, and most of all, caring."
Leslie W. Tacoma
"They really care for people and go out of their way to make things easier."
Kathleen S. Federal Way
"The funeral home is a nice, warm and inviting place. Thank you for your kindness in our loss."
Deborah N. Burien
"We are so pleased with Bonney Watson. They were very professional in every way."
Anita H. Normandy Park