Evelyn G. Slebodnick
Oct 18, 1925 - Feb 4, 2020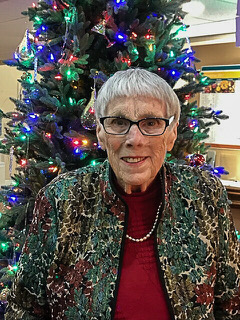 Obituary
Born in Philadelphia 94 years ago on October 18, 1925, Evelyn died peacefully in her home in Mountlake Forest Washington on February 4, 2020.
She lived most of her childhood in a Trenton, New Jersey suburb where her father was a police officer and her mother a stay-at-home mom.  She was the second of three children her parents raised together before they went their separate ways.  Her older brother had left home by then, but her younger sister Ann, and Evelyn stayed with their father until he remarried. The sisters eventually moved back to Philly with their mother who now lived with their grandfather after having served in the Women's Army Auxiliary Corps during WWII.  Evelyn had many reasons to be grateful to her mother, but particularly because her mother pushed her towards a career in nursing. As a consequence, she met and kept many life-long friends but most importantly, she met the love of her life, Edward (Ed) Slebodnick, married him in 1949 and had a robust family life that she and her husband shared for 52 years. 
In 1944 after high school, Evelyn was accepted at Philadelphia General Hospital's (PGH) School of Nursing. At that time she joined the Cadet Nursing Corps which paid her school expenses in exchange for her enlistment upon completion of the nursing program. By 1947 the war had ended, Evelyn graduated, became a licensed registered nurse and began what would be a long and varied nursing career.  Working in the Psychopathic Department at PGH, she met Ed who also worked as a nurse in the same department. Ed had graduated from the Pennsylvania Hospital Nursing Program the same year Evelyn started at PGH and then, volunteered in the Army. In 1944 he was assigned to the Medical Corps, sent to Fort Lewis in Washington then on to the European theater until 1947 when he and Evelyn met at PGH. 
Ed loved Washington State (particularly the apples) so in 1952 when a teaching assistantship at Washington State University (WSU) opened up he pursued it.  Evelyn and Ed drove across country with their 16 month-old daughter Sandy, and began living far away from their east coast family and friends. At WSU the GI Bill allowed Ed to pursue a PhD in Research Psychology while Evelyn worked nights at the hospital.  By 1958 Ed began what would become a 29-year career working for the Boeing Company. Evelyn took a break from nursing for the next 12 years to be a stay-at-home mom.  Eventually they added eight children to their union of two, creating an exciting, busy and interesting life together. 
The family moved many times while Ed worked in support of Boeing programs like the Minuteman Weapon Systems at Vandenberg Air Force Base in California or the Apollo Saturn V & TIE Programs at Kennedy Space Center in Florida. Their children remember lying on their backs in many a field watching various rockets take off. Whether they were moving or visiting family in Pennsylvania, several times the big family drove 3000 miles across the country (and back again) camping every night. Evelyn and Ed always accommodated their children by staying the night where the kids could swim off the drive after having argued their way through setting up the tent, cots & sleeping bags. There were many memorable times and the family laughs about them still.
By 1969, they finally settled in the Pacific NW, mostly the Burien area and Evelyn took a position at Riverton General Hospital as a night hospital supervisor working the 3:00 pm to 11:00 pm shift. Besides a three-year leave of absence between 1981 & 1984 when they took their two youngest daughters, Sara and Stefanie to Perth, Australia for Ed's work with Boeing. During that time, her son, James, had moved to California to live with his brother, Ed.
Evelyn worked at Riverton for 18 years, retiring in 1987. She had made close friendships in Australia and established many more during her years at Riverton Hospital that she continued to enjoy throughout her life.
After retirement, Evelyn and Ed took their Winnebago and went on many camping adventures as their children began their own careers and families.  Sadly, on Christmas Eve of the year 2000 Evelyn lost her husband to Lymphoma, then two of their sons, George in 2011, and Ed Jr. in 2014 to liver and heart diseases, respectively. Since Ed's death, Evelyn lived in her own apartment, then in an independent retirement residence both in Burien, WA before moving to Vineyard Place of Mountlake Terrace, WA to be near her two local daughters, Sheila and Sharon.  During this past year Evelyn was visited by her children, their spouses, grandchildren, nieces and nephews many who flew in from all over the country to spend time with her.  
Evelyn steadily expressed gratefulness for her large, extended family and good friends. Particularly she felt blessed by her eight children that resulted in six grandchildren, four great-grandchildren and eleven step-grandchildren who brightened her precious eyes and uplifted her gigantic heart.
Evelyn will be sorely missed by all who knew and loved her.  She is survived by her children, Sandra (& Gery) Zengion, Sheila (& Pierre) Desranleau, Sharon (& Daniel) Smith, James (& Deborah) Slebodnick, Sara (& Andy) Palmer, Stefanie (& Jim) Link. Survivors also include her grandchildren, Andrea Zengion (& Jason) Challas, Katie (& Aaron) Liberty, Erik & Elizabeth Slebodnick, Ryan & Evan Link; her step-grandchildren, Marc (& Gaby) Desranleau, Paul-Andre (& Kristy) Desranleau, Cher Desranleau (& Mike) Weglin, Ian & Carlin Smith, Robbie, Steve & Adam McRoy; her great grandchildren, Nicholas (Niko) & Simon Challas, Ellis & Evelyn Liberty; her sister-in-laws, Ann Marie Fortunato, Carol (& Wally) Bobowski, Laurel Slebodnick; her nieces & nephews, Sherri, Harold Jr. (Ducky), & Ric Edwards, Janice Fortunato, Joy Crawford, Kate Drew, John & Jim McCarthy, Sherry Lee , Stacy  Evangilista & Gary Slebodnick; and also by Gery's brother, Andy Zengion and, Elizabeth & Erik's mother Barbara (& Zoltan) Biro
"I can't think of anything more that could have been done at a time when I needed help and care."
Jean P. Seattle
"We received outstanding service, from front desk to funeral director to family service and beyond."
Deborah M. SeaTac
"The staff went out of their way to show us kindness and helped with several additional needs."
Norma N. Auburn
"The staff was prompt, courteous, helpful, and most of all, caring."
Leslie W. Tacoma
"They really care for people and go out of their way to make things easier."
Kathleen S. Federal Way
"The funeral home is a nice, warm and inviting place. Thank you for your kindness in our loss."
Deborah N. Burien
"We are so pleased with Bonney Watson. They were very professional in every way."
Anita H. Normandy Park