Evelyn O'Sullivan
May 14, 1922 - November 10, 2021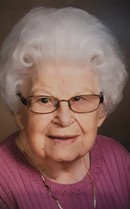 Obituary
A truly amazing woman left us on November 10, 2021.  At 99 years old, Annie Evelyn O'Sullivan passed away peacefully. She was born in Milton, ND on May 14, 1922, to Calmer and Jean (McLarty) Stabo.   
She grew up on a farm with two brothers, Clifford, who passed away at age 8, John and a sister Mary.  She attended a one room country school and graduated from Milton High School in 1939.
She went on to college at Mayville State University. She started her teaching career in 1943.
In 1944 she met and married her life partner Charles O'Sullivan. They settled on a farm near Crystal, ND. In addition to raising children and helping run the farm she continued her teaching career in the Crystal school.
In 1966 Charles was recruited to work for Boeing in Seattle. They packed up and moved to Burien, Washington. Evelyn resumed her teaching at St. Francis Elementary. She furthered her education taking evening and summer classes at Seattle University where she graduated in 1973.
She later taught for many years at St. Anthony's Elementary from which she retired in 1985.
She and Charles were long time members of St. Francis of Assisi parish in Burien. She spent many years in service to her parish community where they made many lifelong friends
Throughout their life they loved to travel. They took many long road trips to visit relatives all over the country, but mostly "back home" to North Dakota and to Indiana where they had grandchildren. After retirement, they visited all fifty states, as well as Canada, Mexico, Ireland, Scotland, England and Italy.
Evelyn had many talents. She was a dedicated gardener and she canned fruits and vegetables of all kinds in incredible quantities.
She was a talented cook and baker.
She was an expert seamstress including making prom and wedding dresses. She also crocheted, quilted, and did embroidery. She was an avid reader and lifelong learner. She had a crochet hook or a book in her hands every evening.
Her most enduring quality was her innate kindness. She could never turn away a stranger, Evelyn's table always had room for one more.
Evelyn is survived by her sister Mary, sister-in-law Ellie Stabo and her nine children: Dan (Lea), Maureen (Harvey) Puppe, Jennifer (Bob) Canna, Mary (Mike Foss) O'Sullivan, Bill (Lori), Colleen (Hal) Hartman, Susan (Steve) Low, Lori (Chuck) Schwartz, Carrie (Rob Jones) O'Sullivan, a niece (who was like a daughter) Patty O'Sullivan and numerous other nieces and nephews, 19 grandchildren and 42 great grandchildren.
Funeral services will be held at St. Francis of Assisi Church at 15226 21st Ave SW Burien, WA 98166 at 10:30 AM Friday January 7, 2022.
Sign Evelyn's online Guest Book at obituaries.seattletimes.com
Goodbye Mom, we miss you and will love you forever.
"I can't think of anything more that could have been done at a time when I needed help and care."
Jean P. Seattle
"We received outstanding service, from front desk to funeral director to family service and beyond."
Deborah M. SeaTac
"The staff went out of their way to show us kindness and helped with several additional needs."
Norma N. Auburn
"The staff was prompt, courteous, helpful, and most of all, caring."
Leslie W. Tacoma
"They really care for people and go out of their way to make things easier."
Kathleen S. Federal Way
"The funeral home is a nice, warm and inviting place. Thank you for your kindness in our loss."
Deborah N. Burien
"We are so pleased with Bonney Watson. They were very professional in every way."
Anita H. Normandy Park