George Paul Trejo, Sr.
January 15, 1936 - January 16, 2023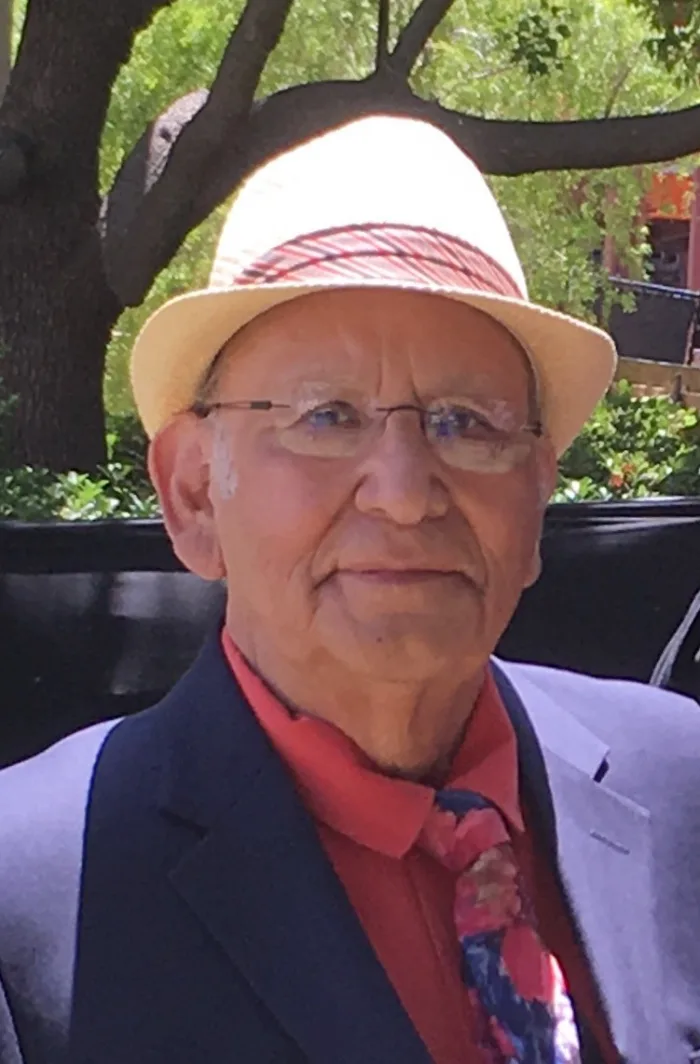 Obituary
George Paul Trejo Sr., our loving father, grandfather, and great-grandfather, passed away on January 16, 2023, in Seattle, Washington, at the age of 87.
Born January 15, 1936, to the marriage of Jose Trejo and Refugio Rodriguez, George was the 15th child of 17 siblings. After graduating from Ventura High School in 1955, he married, Esther Rivas Sandoval Trejo with whom he had two children, George Jr., and Georgia.
When George met Esther, he worked as a mechanic alongside his elder brother Joe Trejo at the Saticoy Lemon packing house. George began his career as an entry-level wireman at Raytheon and was later promoted to an electronics engineer. He spent 18 years at the company, during which time he earned an associate degree in mathematics from Ventura College. Despite his successful career, George never lost his passion for beautiful flowers. In his spare time, he worked weekends at a local carnation nursery in Saticoy. George and Esther were married until her tragic death in 1970. She was a mere 30 years of age at the time of her death.
George later remarried to Doris (Jo) B. Clark in 1974. Jo also had two children from a previous marriage, Mindy, and Tim Clark. Later that year, George was selected to install computer missile systems on Norwegian naval ships through NATO. This took George and his family to Bergen and Honningsvog, Norway, and while in Europe, the family enjoyed vacationing in several European countries.
In 1978, George pursued his next passion in life, opening a restaurant. George and Jo purchased a large old house, built in 1905, on Main Street in Vancouver, Washington. Together they renovated the historic house, turning it into the beloved Mexican restaurant, Casa Grande. Casa Grande remained in operation for over 30 years until the couple retired.
Upon retiring, George continued to embrace life to its fullest. An avid golfer, he competed and won several local golf tournaments, achieving his best round was 1 over par and driving the ball over 300 yards well into his 60s. He also had a love of bird watching, relaxing with his koi fish in his backyard pond, and grew a stunning garden filled with roses, dahlias and other flowers at his Seattle home. George was incredibly artistic, creating beautiful stained-glass, ceramics, and jewelry. At ceramic studios, he formed many strong friendships, and his pieces were admired by all. He was a music lover, an avid collector of violins, and even dabbled in building violins. He was known for his quick wit, infectious smile, and kind, compassionate spirit, along with his loving sense of humor. George had an extraordinary ability to quietly warm the spirits of everyone around him, leaving a lasting impact on all those who knew him.
George is survived by his three children, George Paul Trejo, Jr., Georgia Trejo Locher (Steve), and Mindy Clark (Dev), seven grandchildren Taryn Kruger, Venessa de Lisle (Ben), George Paul Trejo, III (Ingrid), Marcos Trejo, Ross Trejo Locher (Jacqueline), Jonny Locher, and Jessica Clark, and five great-grandchildren, Holly, Nicholas, Alexander, Madison, and Elias. George will be buried with Esther, alongside many of his family members in Santa Paula, California.