Grace R. Kutz
August 5, 1906 - December 28, 2002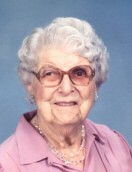 Obituary
Grace R. KUTZ
Grace was the oldest of five children born to Paul F. and Margaret A. Dornbirer. She was baptized the day Dola, Ohio Lutheran Church was dedicated. This was her fathers first Pastorate and first experience in building a new church.
Throughout her childhood, all the things she was encouraged to do seemed to be leading to a full time service in the church. When she was a teenager she wanted to marry a minister. She was taken by her father to church council meetings and remembers sitting on the roll top desk. She was encouraged, under her father's tutelage, to teach a class at the age of 14. She played the organ for the church services when the organist was ill and even played for the German services her father held even though she didn't understand them.
Grace was sent to a neighboring towns high school because the local Latin teacher had no certificate and the family wanted Grace to have a good Latin foundation. She was active in the 4H club, took music lessons and was exposed to the working world at an early age.
Two members of her father's congregation financed the construction of a chicken hatchery near their Parsonage in order to enable her father his income in order to send his family to college.
In her last year of high school, she was sent to the Academy at Capital University in Columbus, Ohio and worked as a maid in the summer to the family with whom she was to live and work with during the school year.
Upon college graduation from Capital University, she was offered a job teaching at a Cleveland high school by a member of her father's congregation who was Superintendent. The position was teaching in the Home Economics department and Grace had been trained in English and Math. Her future husband accepted and assignment at St. Peters Lutheran Church in Spokane, Washington. They were married in June, 1929 and moved to Spokane in July.
During her years as a pastor's wife, she served in every possible capacity a Pastor's wife could. She conducted a private kindergarten in her home, took over the church nursery class and Sunday school, accompanied the choir on an old pump organ which she had never played before. During the Depression she baked cookies and made coffee every week for the choir in order to have them enjoy some fellowship and help build the morale.
The Kutzs raised two fine and faithful Christian children. Grace taught Sunday school almost continually for 40 years. She organized the first Women's Missionary Group in Spokane, was Chairman of the Junior Dept. of the Women's Missionary Society and was President of the Women's Missionary Federation of the Portland group. From 1950 to 1961 she worked with the Dept. of the National body of Women's Missionary Federation when the American Lutheran Church came into existence. Her most difficult thing too give up on retirement was her Sunday school class and Junior Choir. She feels the joyous experiences she had during her lifetime of church work are many fold and she feels "God loves me and has blessed me these 96 years and I love Him and may He be praised and honored and glorified"
Grace was a truly remarkable person. Through adversity, she has persevered to give the marvelous gift of love to all who surrounded her. Her home in Seattle reflected her love of beautiful flowers she carefully cared for as I'm sure she cared for the children she worked with. Her talent for sewing was not mentioned, but she spent many years of her life sewing for children, husband, and friends again giving the very special gift of love with each creation.
We all salute a great lady
She was the loving wife of Rev. Leonard J. Kutz who preceded her in death in 1981. Beloved mother of Margaret Nistad, deceased in 1970 and Paul Margaret Kutz; grandmother of Marjie, Kathie, David, and Sandra; great-grandmother of Rob, Ryan, Blaine, Kyla, Siena, and Wyatt; sister of Margie Felter. Grace was a graduate of Capital University in Columbus, OH. She accompanied her husband in 40 years of Lutheran Ministry in Washington and Oregon. Crypt side service will be held at 11:00 AM, Saturday, January 4, 2003 in the Eternal Light Mausoleum, Bonney-Watson, Washington Memorial Park, 16445 Pacific Highway S, SeaTac. Memorial service will follow at 2:00 PM Saturday, January 4, 2003 at the Tacoma Lutheran Home, 1301 N. Highlands Parkway, Tacoma. If you chose, in lieu of flowers, memorials to Emmanuel Lutheran Church, N. 14th and Stevens, Tacoma 98406or the Tacoma Lutheran Home.
"I can't think of anything more that could have been done at a time when I needed help and care."
Jean P. Seattle
"We received outstanding service, from front desk to funeral director to family service and beyond."
Deborah M. SeaTac
"The staff went out of their way to show us kindness and helped with several additional needs."
Norma N. Auburn
"The staff was prompt, courteous, helpful, and most of all, caring."
Leslie W. Tacoma
"They really care for people and go out of their way to make things easier."
Kathleen S. Federal Way
"The funeral home is a nice, warm and inviting place. Thank you for your kindness in our loss."
Deborah N. Burien
"We are so pleased with Bonney Watson. They were very professional in every way."
Anita H. Normandy Park