Earlene Edwards Bethea
August 2, 1926 - May 5, 2023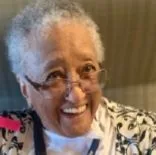 Obituary
Earlene Edwards Bethea, was born on August 2, 1926 in Bunkie, Louisiana to the late Upton Edwards and Viola Clayton-Edwards, the oldest of 10 children. She departed this life with unwavering faith in God, surrounded by her family.

Earlene was united in marriage to Robert S. Bethea, Sr., for over 51+ years. She was preceded in death by her husband, Robert; son, Troy F. Bethea; and daughter, Helen M. Bethea. As well as her parents and five siblings.

Earlene migrated to Seattle in 1942, seeking a better quality of life than the south had to offer. She started out working in Seattle Shipyard, worked tirelessly in numerous jobs, and eventually retired from Boeing in 1990. All the while raising a family and being an active church member first at Spruce Street Seventh-Day Church, and finally at Highland Seventh-Day Adventist Church, where you could always find her faithfully dedicated in service to others.

Earlene was beloved for her zucchini bread, sweet potato pies, fried chicken, cornbread dressing, candied yams, and veggie dishes. She loved backyard family BBQs, holiday gatherings, gardening, watching her "shows": Alaskan Bush People, Doc Martin, Little House on the Prairie, Andy Grin, The Waltons, Golf, Ice Skating, Three Stooges, MSNBC News, and Good Morning America.

Earlene was most proud when she got her driving wings at 60 years old and she tried her best to make up for lost time. When not at home or church, she was making her way to Walmart, Fred Meyer, Green Earth Health Foods, and the Goodwill with one of her "Road Dogs" Zu-Zu or Dee-Dee.

She leaves to cherish and celebrate her memory by her children: Jacquelyn M. Washington (Booker), Robert S. Bethea, Jr. (Deborah), Regena L. Bethea-Faris (Joseph), Michael S. Bethea (Virginia).

Grandchildren: Lee Bethea, Tonya Blair-Sales, Troy Washington; Chappel Briggs, Anthony Bethea, Chelsey Bethea (Todd), Bridget Bethea-Steele, (Austin), Zuri Bethea-Hopkins (Aaron); Armond Faris (Allison), David Faris; Dion Bethea (Tiffany), Deirda (Dee-Dee) Bethea, Angela Bethea, Omari J. Bethea (Skeeter Bethea). 25 Great grandchildren, and 4 Great-great grandchildren.

Earlene bids farewell to Gloria Ramerize-Bethea, Starr Franklin, her siblings, a host of nieces and nephews, her Highline SDA church family, friends, and neighbors.

The family acknowledges with humble hearts your prayers, visits, calls, cards, flowers, and every expression of sympathy made during this time. God be with you. She ran the race, fought the good fight, and can now rest in peace.