Jane K Churchill
January 17, 1934 - April 28, 2022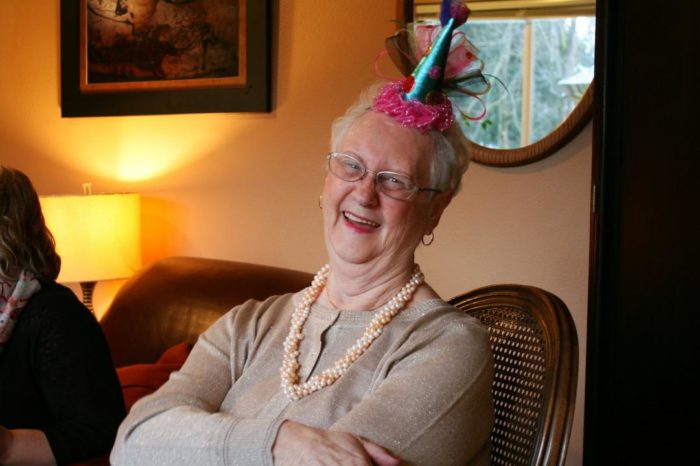 Obituary
Jane K. Churchill was born January 17, 1934, in Greeley, CO.  She loved to laugh and be with friends and family.  She was a musician, decorator, dog breeder, bargain shopper and an excellent host. Her love and care for her family was her focus in life and all her children a great testimony to what type of mother she was. We imagine she is in Heaven now with her family and friends having a good time.
Jane Nordell passed away peacefully on April 28, 2022 at the age of 88. Beloved wife of the late Richard M. Churchill. Loving and generous mother of Kathleen (Rick) Huyber, James (Sylvia) Churchill, Gabrielle (Rob) Gibbert, and Carrie (John) Opgenorth. Cherished grandma of Tara, Zachary, Lucas, Carmen, Izzy, and Autumn. Great-Grandma of Charlie Rae. Further survived by other loved relatives and friends.
Jane's father was Iver Nordell and his side of the family migrated from Ostergotland, Sweden to the United States in 1879.  They were the Anderssons in Sweden, but changed their name to Nordell when reaching America. Nordell means North Valley.  Her mother's name was Carry Carson (mainly French but did have many nationalities in her).  Her parents married in Greeley, Colorado in 1897.  There were 7 children in her family with two sets of twins. Jane had a twin brother Wayne who passed away a couple of years ago in California. 
Jane grew up on a farm in Greeley, Colorado with her father a carpenter and her mom taking care of the children and home. She graduated high school in 1953. Her family was very musical with her mom playing the piano and organ. Her dad played the drums and Jane played the accordion plus piano. They played as a band at lodges in town. Jane never learned to read music. She only needed to hear the song once and then she could play it. It was just part of her DNA.
Jane met and married Richard Churchill April 13, 1963 and moved to Seattle a few years later. They had 4 children and Rich worked as diesel mechanic in the area. Jane loved animals along with children and always had animals around her. She even bred miniature dachshunds for years.  She also loved to babysit for extra money when her kids moved out of the house.  Many of her neighbors benefitted from her in-home care. 
Rich passed away in 2005 in an accident which changed the rest of Jane's life. She moved to Puyallup and lived for years in assisted living facilities to keep her in good company and care. She had many fun years going to lunch with the red hats, shopping trips, vacations to Hawaii and California.
In 2012, her youngest daughter, Carrie decided to move to Wisconsin with her husband and two children where John grew up. Jane decided to move with them to start fresh and stay close to her youngest daughter and grandchildren. She had many great years in Wisconsin with John's family and felt she had been adopted to the clan.
Jane loved to shop and decorate, especially for the holidays. Her biggest accomplishments were her children and grandchildren. Family meant everything to her. Jane was a colorful and vibrant woman, the family requests attire for her celebration of life to match her vibe with colorful clothing celebrating a woman who loved to celebrate life and spoil her children and grandchildren.
Memorial Gathering will be held at Max A. Sass & Sons-Westwood Chapel (W173 S7629 Westwood Dr., Muskego) starting at 10 AM until time of Memorial Service at 12 noon.
Graveside Service Saturday, June 18th at 12 PM at Bonney Watson Washington Memorial Park, 16445 International Blvd, SeaTac.