Julian Fleming Hunter
May 19, 1935 - November 10, 2022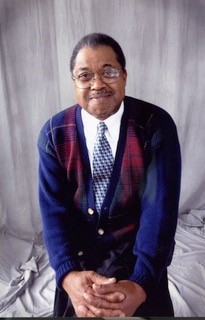 Obituary
Julian F. Hunter
Julian Fleming Hunter was born May 19, 1935, to Mrs. Ivernia C. Hunter and Mr. Wallace Alvin Hunter in Longview, TX. Julian was the youngest of six siblings.
Julian followed his oldest sister, Earlene Hunter Drayton to Seattle after high school graduation in 1952. He attended Seattle University 1954-1954. Soon after arriving in Seattle Julian joined Mount Zion Baptist Church. There he met Ernestine Gray while attending young adult activities. They married December 27, 1954, at age 19 and three daughters were born to this union, Teressa Lavon, Patricia Lotrece, and Cynthia Julia.
Julian entered the Army in January 1955 and was honorably discharged in December 1957. In 1959 Julian began working for the U. S. Postal Service working in several positions. He retired in June 1990 as a Labor Relations Manager. He was an excellent contract negotiator and was able to bring adverse sides to the table, value all who were part of the negotiations, and reach amicable solutions.
Julian stayed busy in retirement and believed in giving back to others. He volunteered as a library assistant for years at Cooper Elementary School in West Seattle. Julian was an avid sports enthusiast. He coached senior volleyball and softball for over 20 years in Des Moines, WA. He also played golf regularly.
Throughout his life Julian answered an innate call to serve others. In retirement, he cared for his ailing friends. He would accompany them to doctor appointments, take them to ball games, and assist them with their personal hygiene.
Julian's call to service extended to the Diaconate ministry at Mount Zion Baptist church. He was ordained in 1963 at the age of 28 and served faithfully until illness prevented him from doing so in 2021. Deacon Hunter was the Dean of Diaconate training for several classes and taught others their responsibilities for service that accompanied the office of an ordained deacon.
Deacon Hunter was active in regional American Baptist Churches ministries. He served on several committees of the Evergreen Association, including the Ordination Commission and the Black Caucus. Deacon Hunter was known for his chicken grilling expertise in Evergreen and supported the Black Caucus during their barbecues.
Deacon Hunter also served on the Social Committee at Mount Zion. Although a gifted leader, working behind the scenes suited him. He loved to cook and frying chicken was another expertise.
Deacon Julian F. Hunter loved God, his family, and Mount Zion Baptist Church. He was also a gardener, farmer, woodworker, and tailor. Julian and Ernestine had the gift of hospitality and often entertained family and friends in their home. Julian was preceded in death by his wife of 33 years Ernestine Gray Hunter, his daughter Teressa Hunter Brown, and all his siblings; Earlene Drayton, Charles Hunter, Alva H. Smith, Q. Delores Hunter Sims, and Dorothy Griffin.
Deacon Hunter's life will continue to be celebrated and cherished by his daughters, Dr. Patricia L. Hunter (Dr. Renee McCoy), Cynthia Hunter, grandson C. Nathan Hunter Jones, granddaughter Melinda Brown, great grandson Donzell Crocket, many nieces and nephew, and a host of relatives and great friends. Memorial service for Deacon Julian F. Hunter will be held Friday December 2, 2022, at 11 AM at Mount Zion Baptist Church, 1634 19th Ave, Seattle, WA