Kazuko Watanabe
April 7, 1932 - July 3, 2013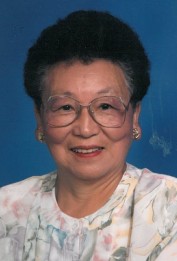 Obituary
Kazuko Watanabe, age 81, passed away on Wednesday, July 3, 2013, from complications of a stroke at her home in Kent, Washington surrounded by her children. She was born in Ogden, Utah on April 7, 1932 to Morikiyo and Toriko Yei.
Kazuko is survived by her son, Tracy (Lizabeth) Watanabe and daughter Sandra Watanabe of Kent, brothers Biff Yei of Ogden, Utah and Thomas Yei of Billings, Montana, sisters Kuni Kawashima of Ogden, Utah and twin sister Aki Nishi of Vancouver, Washington, along with many nieces and nephews. Kazuko was preceded in death by her husband George (1991) and daughter, Shari Watanabe (2010), sister, Amy Sameshima and brothers, Joe, Slim, Sam, and Kay Yei.
Kazuko spent many years working on the family vegetable farm in the Kent valley before going to work for J.C. Penney in 1976. She worked in several different departments before retiring in 1994. She was especially fond of the many friends she had made while working there.
Holidays were always a special time with Kazuko, especially Christmas, as much joy and laughter always filled the home. She was the first to say, "Let's open presents." Family and friends joined together at her home each New Years Day to partake in a traditional Japanese meal and share good times together. Kazuko liked to travel spending time in many different states and countries. She especially enjoyed taking trips and seeing the sights with her daughters, Shari and Sandra.
She loved playing cards wither her children, especially Two Card Guts, Blackjack, and Rummy. She also enjoyed visiting her neighbors, embroidery, jigsaw and word puzzles, collecting Precious Moments figurines and visiting different casinos.
Kazuko touched the lives of many people and will never be forgotten. We will always have our favorite memories of this incredibly gracious, loving, and wonderful Mom and friend. She holds a very special place in our hearts. Until we meet again Mom…
In lieu of flowers, Kazuko's family requests donations to be made to the American Heart Association; PO Box 742030, Los Angeles, CA 90074-2030 (www.heart.org) or your favorite charity.
Funeral service will be held at White River Buddhist Temple, 3625 Auburn Way N., Auburn, WA on Friday, July 12, 2013 at 11:00 AM. Viewing is from 10:00 AM – 11:00 AM at the temple. Interment will directly follow the service at Bonney-Watson; Washington Memorial Park, 16445 International Blvd., SeaTac, WA 98188.
Messages of condolence may be left with the family online by visiting www.bonneywatson.com.
"I can't think of anything more that could have been done at a time when I needed help and care."
Jean P. Seattle
"We received outstanding service, from front desk to funeral director to family service and beyond."
Deborah M. SeaTac
"The staff went out of their way to show us kindness and helped with several additional needs."
Norma N. Auburn
"The staff was prompt, courteous, helpful, and most of all, caring."
Leslie W. Tacoma
"They really care for people and go out of their way to make things easier."
Kathleen S. Federal Way
"The funeral home is a nice, warm and inviting place. Thank you for your kindness in our loss."
Deborah N. Burien
"We are so pleased with Bonney Watson. They were very professional in every way."
Anita H. Normandy Park