Mary Ellen Toon-Whitehead
February 15, 1923 - August 3, 2022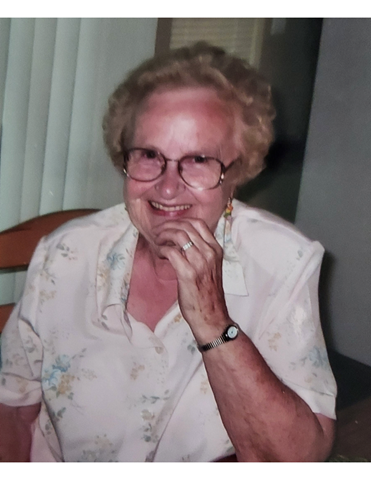 Obituary
Mary Ellen Whitehead – Toon –Anderson born February 15, 1923 (at home on Foster Point).
Mary Ellen attended Foster Grade School through 8th grade that was next to the high school. Mary Ellen graduated from Foster High School in May 1940.  She attended A.A. Peterson Business College in Seattle.  Took a civil service test in 1941and was hired as a steno-clerk in Bremerton, WA with the Puget Sound Navy Yard in the shipping department.  She commuted for 3 months until she met two girls and they shared an apartment in Bremerton – $35.00 a month.  She was making $120.00.
It was in Bremerton she met Bill Toon (1942). He was stationed at the Marine Barracks. In the fall of 1942, he was sent overseas and was in the Battle for the Marshall Islands and Guadalcanal. After his return, they were married on August 22, 1944 in the Foster Presbyterian Church by Rev. Vernon Richards.
Bill and Mary Ellen raised 3 children, Mike born Dec. 1946, Kathy June 1949 and Bill June 1950. They moved into the brick home on Foster Point in January 1, 1951. The house was built by Bill and a lot of help from her dad John Anderson.
After Billy started 1st grade she began working again.
Northern Pacific Railway in the Smith Tower, secretary.
U.S. Post Office at 3rd and Union, secretary
Airport Mail Facility at SeaTac in the 60's, secretary
Various law firms, longest at Renton City Attorney
Bill died November 11, 1971.
In 1974 she married Stan Whitehead. They bought a travel trailer and went off all over the West. They also traveled to Hawaii several times. It was a happy time for both of them. Stan died June 14th 1983.
Later she traveled to England, Scotland, Alaska, Texas and Florida with her lady friends and family.
She was preceded in death by her parents, Johnny and Myrtle Anderson and her son Mike.
Mary Elllen is survived by her children-Kathy Kilburg (Tom-Georgetown, TX), Bill Toon (Wendy-Tukwila, WA). Grandchildren, Lisa Becky, Debbie, David, Deanna and Katie, 14 Great Grand Children and 4 Great Great-Grand Children.