Mildred Joyce and Jack Herbert Kibbe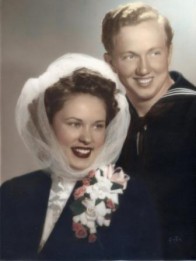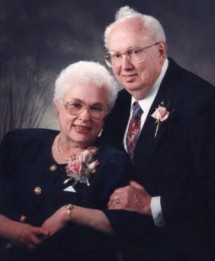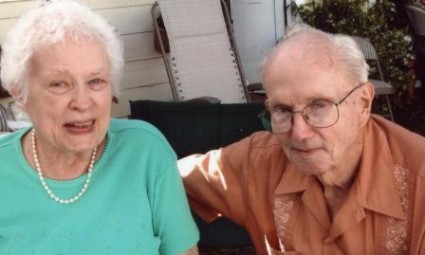 Obituary
MILDRED JOYCE KIBBE & JACK HERBERT KIBBE, SR
Mildred Joyce Kibbe, 83 of Seattle, WA passed away peacefully Wednesday, July 14, 2010.
Joyce was preceded in death by her loving husband Jack Herbert Kibbe, Sr., 84 of Seattle, WA, July 29, 2009. Together again. Joyce was born in Fort Dodge, Iowa. Jack was born in Des Moines, Iowa.
Joyce enjoyed roller skating on the sidewalk in her neighborhood as a youngster and told how she constantly had skinned knees and elbows. As a young man, Jack enjoyed riding and repairing bicycles, and ice skating on the pond near his family home. He also told of his escapades as a hospital corpsman in the Navy. Joyce and Jack were married 63 years and lived most of that time in a small home near Seattle where they raised three children. Joyce worked for a time at Frederick and Nelson. Jack retired in 1986 after 40 years at Boeing. For most of their lives together, gardening was their passion. They took great pride in their garden every year, working side by side. They did a great deal of research and planning each spring. Their family was the focus, pride, and love of their lives.
Joyce and Jack are survived by daughter, Claudia Poor David Ratko, and sons Jack Kibbe, Jr. Kehaulani, and Lee Kibbe Charleen, six grandchildren, three great grandchildren, and numerous nieces and nephews.
We would like to thank the staff of the SeaTac NW Kidney Center. You knew how to make Joyce and Jack laugh during difficult times. We also want to thank the staff of Normandy Park Sr. Living where Joyce and Jack lived and received the utmost of tender, loving care.
There will be a memorial service for Joyce and Jack August 5, 2010 3:00 p.m., @ Normandy Park Sr. Living, 16625 1st Ave S., Normandy Park, WA 98148.
Arrangements by Bonney-Watson Washington Memorial, SeaTac.
"I can't think of anything more that could have been done at a time when I needed help and care."
Jean P. Seattle
"We received outstanding service, from front desk to funeral director to family service and beyond."
Deborah M. SeaTac
"The staff went out of their way to show us kindness and helped with several additional needs."
Norma N. Auburn
"The staff was prompt, courteous, helpful, and most of all, caring."
Leslie W. Tacoma
"They really care for people and go out of their way to make things easier."
Kathleen S. Federal Way
"The funeral home is a nice, warm and inviting place. Thank you for your kindness in our loss."
Deborah N. Burien
"We are so pleased with Bonney Watson. They were very professional in every way."
Anita H. Normandy Park